True story.
My rather-large family grew up in a cramped 1,000 foot ranch. One day, I went to visit a new friend from elementary school, whose father was a prestigious doctor – and I couldn't believe where he lived.
When I got home I breathlessly told my parents, "He lives in a mansion! It's incredible!"
Decades later, long after I had moved out of the area, my brother ended up buying that same house. And when I came home to visit, I couldn't believe where he lived.
It was a nice, 2,500 square foot house. It had a full dining room, a family room and a wrap-around porch overlooking a lake, but only four rather-small bedrooms and two baths. Not only wasn't it a mansion, my current home in California was bigger. (My brother ended up tearing down the "mansion" and building a much nicer house in its place.)
The moral of the story? A "mansion" is in the eye of the beholder. There's no firm real estate industry definition of the term.
Let's see if we can at least come close.
What Is a Mansion?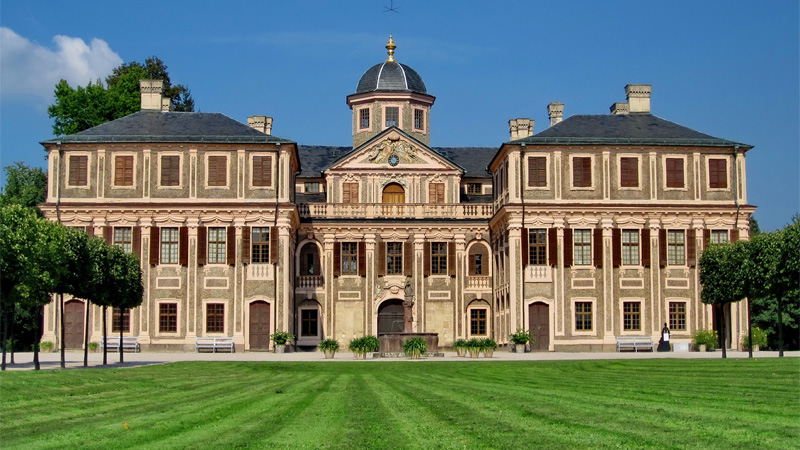 "Mansion" can be a very subjective term. The biggest tourist draws in Newport, Rhode Island are the mansions that the ultra-rich built as their summer residences during the 19th century's "Gilded Age." The most famous is The Breakers, a 62,000 square foot palatial estate used by the Vanderbilts. They didn't call it a mansion, though. They called it their "summer cottage."
Dictionaries don't help us narrow down the definition of mansion, either.
Merriam-Webster says a mansion is "a large imposing residence." Dictionary.com suggests "a very large, impressive or stately residence." The Cambridge Dictionary chips in with "a very large, expensive house."
Does anyone else get more specific? Reference.com says "a good rule of thumb is 5,000 square feet." Wikipedia, however, says "some realtors in the U.S. term mansions as houses that have a minimum of 8,000 square feet."
That's a significant difference. It's not difficult to find 5,000 square foot homes in upscale neighborhoods throughout America. In fact, the 1980s saw an explosion of luxury developments around the country filled with houses known as "McMansions," and most were 5,000 or even "just" 4,000 square feet in size. Often, they were built on small lots and extremely tacky, with out-of-place columns, arched entryways or gables, and a hodgepodge of architectural styles.
A 4,000 or 5,000 square foot residence in midtown Manhattan might actually be considered a mansion, since real estate there is at a premium and prices are prohibitive. But we can probably all agree that a house that size isn't really a "mansion" in most areas of the country – except, of course, to a kid growing up in a cramped 1,000 square foot ranch.
3,000 square feet is a big house. 4,000 square feet is a very big house. 5,000 square feet is a really, really big house. But they're not necessarily special or unique. A mansion is.
Bottom Line: There's no universal agreement on the number of square feet that would qualify a house as a "mansion." Some claim it's 5,000 square feet, while many realtors use the ballpark figure of 8,000 square feet. What's more important for a house to be considered a mansion, though, is what's actually inside.
What's In a Mansion?
Generally speaking, a mansion is an extremely large home with a number of rooms and features that you'd never find in an ordinary house.
Mansions like the ones you'll find in Newport have ballrooms, sitting rooms, music rooms, staff quarters (where else would the butlers and maids live?) and kitchens large enough to serve Great Gatsby-sized cocktail and dinner parties.
Modern mansions are more likely to house a nanny's suite, large theaters, gyms, spas, panic rooms, and even indoor swimming pools, bowling alleys or basketball courts.
Both probably have separate wings for house guests, and all sorts of what we now call "bonus" rooms for art collections, libraries or media centers.
Just as important as the number of rooms, though, is the attention paid to construction. True mansions have been painstakingly designed by architects and built by experienced custom builders; their architectural styles may vary, but they're usually breathtaking. One more constant through the years: the materials and finishings in mansions will be high-end.
The rooms in 20th and 21st century mansions may not feature the hand-fashioned Corinthian columns or intricately-painted ceiling frescoes seen in old-school Newport "cottages," but the same types of imported marble, high-quality granite and fine woods are often used to build modern mansions. Others will be a wonderland of vaulted ceilings and floor-to-ceiling glass. Serious attention is paid to the selection of details like mantelpieces, moldings and cornices.
These homes' interiors have always been the province of the finest interior designers. Custom furnishings are carefully selected and no expense is spared, as ambience always takes precedence over bottom lines. The kitchens may not have the immense cast-iron coal-burning stoves and zinc work tables that were common in the 19th century, but they'll be outfitted with the latest smart appliances and a quarry's worth of marble countertops.
We can't just focus on the exquisite buildings and interiors; the grounds of a mansion are almost as important.
Old-time mansions generally had acres of manicured grounds with terraced landscapes, meandering paths, perfectly-tended gardens, and stately, imported trees. Today's mansions are still likely to have impressive grounds, but will often include modern luxuries like spas and pools with intricate water features and cabanas, sports courts, Japanese-style gardens for relaxation and meditation, and enormous garages. Many will have guest houses on the property or entertainment facilities for large groups as well.
Bottom Line: A mansion is often defined by the way it's been constructed and the number and variety of rooms it contains. Architects will design the home to have an exquisite architectural style; high-end, expensive materials will be used both inside and out; and extensive care will be taken to select the furnishings and design features. The grounds will be impressive and expansive as well.
Is an Estate a Mansion?
Do you remember learning in school that "all cows are animals, but not all animals are cows?"
Mansions and estates are something like that. Many estates have mansions built on them, but most mansions aren't built on estates.
In other words, "estate" describes an extensive parcel of land, which will almost always have a home located on the property – and those who can afford the land are often likely to build a large, expansive house.
In the Middle Ages, an estate (more commonly called a manor) was really a self-contained town. It included the mansion (more commonly called the manor house) and its outbuildings and grounds, agricultural land, pastures, rudimentary homes for the serfs who worked the land, and even small shops.
Today, of course, estates are quite different. They're large tracts of property that may contain farmland or pastures, but they're just as likely to serve as horse farms or playlands for the wealthy. And while they don't all have mansions as their centerpieces, their owners may very well view their home as one.
Bottom Line: Estates and mansions aren't quite the same thing. "Estate" defines an enormous parcel of land usually centered around a large home. "Mansion" refers to an expansive and impressive house. However, mansions are often built as the centerpiece of an estate.
Where Are You Most Likely to See Mansions?
We've already mentioned Newport, where eleven 19th century mansions are clustered near the ocean. Ten of them are maintained by the local Preservation Society and available for tours. It's more difficult to "identify" modern-day mansions, since (as you know by now) there's no easy way to define them.
The website SmartAsset has given it a try, though. They've analyzed U.S. census data, and identified areas with the most owner-occupied homes that have at leave five bedrooms and 15 rooms in total.
You'll probably be surprised to learn that the state with the most mansions, using that description, is Utah. More than 1.5% of all houses in Utah are "mansions," spread through the cities of Provo, Ogden and Salt Lake City. Why Utah? The best guess is that, statistically speaking, the state has the largest families in the nation.
Other areas that top the list are Bridgeport-Stamford-Norwalk-Greenwich, Connecticut (wealthy bedroom suburbs of New York City), Washington, D.C. and its Maryland/Virginia suburbs (you may have heard of one mansion in the vicinity, the White House), Atlanta, Honolulu and Orlando.
To find America's largest mansions, however, you'll have to look elsewhere.
The Vanderbilt "summer cottage" in Newport is huge. But Biltmore, the mansion the family built outside Asheville, North Carolina, puts it to shame. It's a mind-boggling 175,000 square feet in size with more than 250 rooms, including a dining room with a ceiling that's seven stories high. Biltmore was designed to resemble a chateau in France's Loire Valley, and took six years to build. The family still owns the property, which is open to the public.
Investment banker C. Ledyard Blair had a mansion on Manhattan's Upper West Side, but as we all know, one mansion is never enough. He also had a 62,000 square foot mansion in New Jersey and another (exactly the same size) built on an estate on a private island near Palm Beach. The latter's main residence only has 12 bedrooms, but there's also another seven-bedroom house, two four-bedroom cottages, and a guest house on the property. Good news: while the other two mansions are privately owned, the Florida one is for sale for just $115 million!
Yes, California's on the list, too. TV producer Aaron Spelling (Charlie's Angels and 90210, among many other hits) built a 56,500 square foot mansion (with 123 rooms) known as The Manor, in a wealthy neighborhood of Los Angeles. It was designed to impress jaded members of the Hollywood glitterati, so the double staircase with 30-foot ceilings, Italian limestone floors and 100-car parking lot shouldn't be surprising. It's changed hands several times, but it was once the most expensive L.A. home ever sold, at $120 million.
To finish where we started, though, whether or not a big house is a mansion is purely a subjective matter.
A huge, 8,000 square foot California house that's located down the street from The Manor might seem like a starter home by comparison, while a 4,000 square foot McMansion that's the architectural wonder of a rural West Virginia town might legitimately be seen as a mansion by the community's other residents.
And unless you're a would-be Vanderbilt, Blair or Spelling, it might be better to not think of your current home as a mansion. That way, you can always dream of your next house – a bigger one, which truly will be a mansion.
Bottom Line: You're more likely to find mansions in the former playgrounds of the 19th century elite, in Utah, or in wealthy suburbs of large cities. But there are mansions in every state, and the largest ones are almost-obscenely ornate sights to behold.
What Is Considered a Mansion: FAQ
Q: Are there home builders who specialize in building mansions?
A: Not specifically, but some experienced builders do focus on the market for large, custom-designed homes. If you have a mansion in mind, be sure to interview prospective architects and builders about the sizes and styles of other homes they've built – and obtain and check references carefully. Also ask the builders about their sources for high-end materials, and find out where they obtain reputable subcontractors. You don't want the guys who hang out in front of Home Depot looking for a job to be working on your mansion.
Q: How do you find mansions for sale?
A: Your local real estate agent may know of one, but there's a better chance they won't. When many of these homes are sold, they're private listings not made available to the industry through the Multiple Listing Service (MLS). Your best bet is to contact a specialty realtor who deals in luxury homes, who's more likely to have the contacts necessary to find mansions that are on the market.
Q: Do mansions have to have fancy designs, lots of granite and marble, a horrendously expensive kitchen, and all those towers and turrets you see in photographs?
A: Of course not. Whether it's a 1,000 square foot ranch or a huge mansion, it's still your house. Those materials and features are often traditional, but the only thing a mansion needs is lots of space. How you use that space should fit your needs and lifestyle, not anyone else's idea of what a mansion should look like.