When you're searching for a real estate agent, you won't find anyone advertising themselves as a "buyer's agent" or a "seller's agent." They're simply "real estate agents."
(About half of American agents call themselves "realtors," which simply means that they belong to the National Association of Realtors and subscribe to that organization's code of ethics. There's essentially no difference between an agent and a realtor.)
There's a good reason why realtors don't advertise as buyer's agents or seller's agents: virtually all of them are ready and willing to represent either side of a transaction, and most usually work with different buyers and sellers simultaneously. If they called themselves a "buyer's agent," for example, they might scare away potential clients looking for an agent to help them sell their homes.
The qualifications a realtor needs to be a buyer's agent and a seller's agent are exactly the same. Their responsibilities, however, are quite different.
Let's sort them out.
The Most Important Fact about Buyer's and Seller's Agents
Here it is: they work for "different teams."
Sure, they each want the home to be sold. But the primary goal of the buyer's agent is to get the possible deal for the buyer, and the primary goal of the seller's agent is to get the best possible deal for the seller. (In fact, in most states the agents have a legal responsibility to use their best efforts to represent their clients.)
That means two things for buyers and sellers.
The realtors on both sides of a transaction may be terrific and accommodating people. They have a responsibility to disclose all pertinent facts about the home and the transaction to the other side. But you should only trust – and confide in – the agent who's representing you, not the one on the other team.
Your agent should always be responsive to what you want, not to what the "other side" wants. Even if they disagree with your decisions, it's their responsibility to represent you. And even if your decision will mean that a sale falls through (and costs them their commission), it's their duty to represent you throughout the process.
While we're dealing in facts, here are several more.
Terminology
The descriptions of agents can vary from location to location. The seller's agent is often called the "listing agent," because they list the property for sale with the MLS. And for some reason, the buyer's agent is referred to as the "selling agent" in some areas, once a purchase contract is signed. Don't ask us why; we don't understand it either.
Commissions
Once a home has been sold, both the buyer's agent and seller's agent are paid their commissions from the proceeds. Each realtor normally receives between 2½-3½% of the sale price, although those percentages can be negotiated at the start of a client-agent relationship.
By long-standing tradition, the seller is responsible for paying both realtors, and that can lead to misunderstandings. Even though the seller pays the buying agent's commission, the buying agent has no responsibility to represent the seller's interests at any time – and sellers should not expect any "favors" from the buying agent just because they're footing the bill.
Dual Agency
It's possible, in most states, for an agent (or their employer, the broker) to represent both the buyer and seller. That's known as dual agency, and it can be tricky.
For instance, the agent may know that the seller will accept an offer that's $20,000 lower than the asking price. Ethically, however, they should be trying to get the full price on behalf of the seller – while at the same time, they should be trying to get the lowest possible price for the buyer. That conflict can lead to a messy negotiation, and at least one unhappy party to the transaction.
That's why many realtors and brokers refuse to represent both sides, and it's why eight states have made it illegal. Even so, there are some agents who can't resist collecting a dual commission, so it does happen about 10% of the time. If you're a buyer without an agent, and a seller's agent offers to help you purchase the home that their client is selling, be very careful.
Now that we're all on the same page, let's talk about buyer's and seller's agents.
Bottom Line: All realtors have the knowledge and qualifications to represent either the buyer or the seller in a transaction. In almost all cases, though, they only represent one or the other – and have a responsibility to do so honestly and professionally. A buyer should not expect the seller's agent to watch out for their best interests, and vice versa; buyers' and sellers' agents are both simply trying to get their clients the best deal possible.
What a Buyer's Agent Does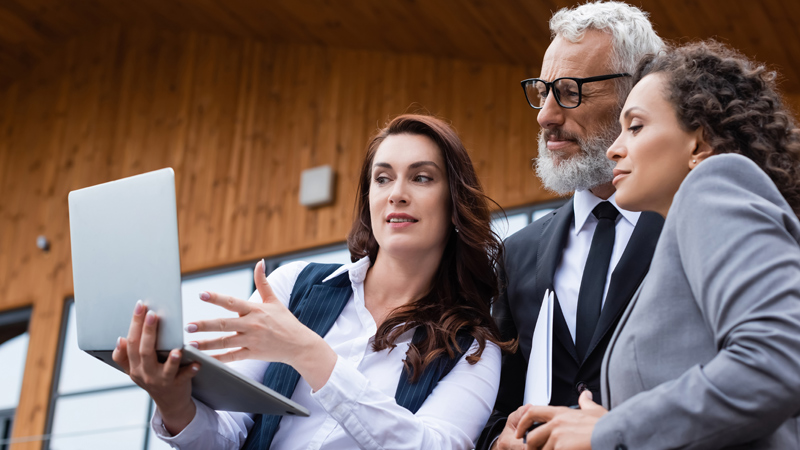 A buyer's agent actually does much of their work before they even meet their client.
They constantly stay on top of real estate trends in the neighborhoods where they work, they monitor local news and information (like school ratings, crime rates and new home construction projects), and they pay close attention to listings that have come on the market.
That allows a good realtor to assist a potential buyer the moment they call. They won't have to do a lot of research before suggesting neighborhoods or subdivisions that fit a buyer's needs or price range. They may even know of several suitable homes that are already for sale.
Once a buyer is ready to begin their active search, here's what a good buyer's agent will do.
Ensure that the buyer has a mortgage pre-approval. Suggest mortgage lenders if they don't, and help with that process if necessary.
Show the buyer MLS listings for homes they might be interested in. If the buyer isn't familiar with the area, prepare maps to show where the homes are located. A diligent agent will also map nearby properties which have recently sold, to give their client an idea of current market conditions.
Make appointments for showings, and accompany the buyer to each one. In most cases, the agent will drive.
Accompany the buyer to any open houses they might be interested in attending.
Offer thoughts and advice on each home and its asking price, and help the buyer narrow down their choices.
Provide comps (comparable recent sales in the same area), and help their client decide how much to offer and how to structure the offer (including all contingency clauses), when the buyer is ready to make a purchase.
Explain the standard offer form, and submit the offer on behalf of the buyer.
Assist in negotiations, and submit counter-offers on behalf of the buyer.
Once an offer has been accepted, the buyer's agent's work is far from complete. They will:
Explain every step of the process that follows, from inspection and appraisal through closing, and help buyers understand paperwork (such as HOA regulations and title reports) if necessary.
Recommend home inspectors, and once the inspection report is received, assist in negotiating necessary repairs or contract allowances in lieu of repairs.
Recommend local home insurance agents and other professionals, if necessary.
Maintain communications with the mortgage lender to ensure the home loan remains on track.
Maintain communications with the seller's agent to ensure no hiccups or glitches arise.
Provide any necessary information to help the buyer with their relocation and the actual move.
Attend the closing (or assist with a virtual closing) and provide any necessary assistance and advice.
And once everything's been signed, the buyer's agent will collect their commission – without their client having to pay them a penny.
Bottom Line: The buyer's agent's overall responsibility is to hold their client's hand, walk them through the complicated sales process, and get them the best deal possible. They will provide all the information and assistance needed to ensure the sale closes on time, they will deal with the seller's agent on behalf of the buyer, they will be the "bad guy" in negotiations if necessary, and they will provide an important level of comfort for the buyer throughout.
What a Seller's Agent Does
Most sellers' agents act as buyer's agents in other transactions, so they already have the knowledge necessary to help a homeowner sell their house.
And it comes into play whenever they're engaged by a client to act as their agent. Among their initial responsibilities:
Consult with the seller to advise them on their home's desirability and a possible price range.
Suggest repairs and updates that will let them maximize the selling price, and recommend contractors and vendors who can help with those projects.
Supply comps and help the seller decide on an initial asking price.
Hire a photographer and videographer to supply professional photos and videos for marketing material and website listings.
Hire a staging company or advise the seller on the best way to stage their home for viewing.
List the property with MLS and arrange for any other advertising or website placement desired. Conduct a caravan (private showing) for local realtors.
Provide signage for the property and one-sheet sales material for distribution on-site and at open houses.
Schedule and host open houses and private showings.
Consult on possible adjustments to the asking price, if necessary.
Once (not if!) offers start flowing in, there's plenty more for a seller's agent to do.
Qualify potential buyers to ensure they are pre-approved for a mortgage.
Advise the seller on the important details of all buyer offers (in addition to the price), and help them choose an offer to accept or counter.
Assist in negotiations and consult on contingency clauses, and submit counter-offers on behalf of the seller.
Receive and hold earnest money from the buyer.
Hire a title company and assist them with details and communication as necessary.
Attend the home inspection and advise the seller on whether to make repairs or offer contract allowances. Recommend contractors if necessary.
Attend the appraisal, if one is scheduled.
Maintain communications with the seller and the buyer's agent to ensure no hiccups or glitches arise.
Attend the closing (or assist with a virtual closing) and provide any necessary assistance and advice.
After the closing, the seller's agent will collect a nice commission – and will have earned every dime.
Bottom Line: The seller's agent's primary responsibilities are to get the most money possible for their client, to ensure that the sale closes properly and on time, and to provide advice and support as needed. Most of their legwork will be done early in the process, to get the home ready for showings and actually show the property. But there's still an enormous amount of detail to properly complete before the sale is finalized.
Finding the Right Buyer's or Seller's Agent
There's no shortage of realtors ready and eager to help homebuyers and sellers. The choice of an agent often determines whether a home search or sale ends in success, or disappointment.
Previous experience is often the best starting point. Even if a real estate agent acted on your behalf when you were buying your home, they're undoubtedly fully-qualified to help you sell it, too. A great realtor is a great realtor, no matter which side of the transaction they're on.
Recommendations from friends, family and neighbors are likely to be better options than simply calling an agent whose ad you've noticed on a billboard or bus bench. But there's nothing wrong with interviewing multiple realtors before making your choice. In fact, it's the best approach.
Don't hurry the selection process. The longer you speak with a selection of realtors, the more information you'll be able to gather, the more comfortable you'll feel with the process and the realtors' overall knowledge of the market, and the easier it will be to determine the right agent for the job.
Buyer's Agent vs. Seller's Agent: FAQ
Q: Do I really even need an agent?
A: Technically, no. A small percentage of homeowners successfully sell their home as an FSBO (For Sale By Owner) in order to avoid paying a commission. But studies show that decision is actually likely to cost them money in the form of a lower selling price, except in a red-hot sellers' market.
Similarly, you can purchase a home without an agent. But without the proper knowledge and connections it's often impossible to find all of the attractive listings (some are so-called "pocket listings" that aren't advertised publicly), it's difficult to navigate the paperwork barrage, and you might wind up negotiating a lower purchase price than an agent could work out. Oh – and it won't save you any money on commissions; the seller pays the buyer's agent commissions. The only possible upside is that the seller may be more willing to negotiate on the price, since they won't have to pay a buyer's agent.
Q: What is an "exclusive buyer agent?"
A: A few realtors represent only buyers and never take seller's listings. That guarantees that they'll never have a conflict of interest, but these agents usually serve a large area and may not be as familiar with individual neighborhoods and towns as a traditional agent. It sounds like a good idea, but in reality, you'll do just as well (or better) with an honest and ethical realtor in the area where you're buying.
Q: If I walk into an open house and fall in love, should I just deal with the agent who's showing the home?
A: That's not a good idea, since that agent already has a responsibility to get the seller the highest price possible. They might be trustworthy enough to represent both sides fairly, but the risk isn't worth it – since you don't have to pay a buyer's agent out of your own pocket. It makes more sense to find a good real estate agent and let them do the work for you.
Q: Can I use multiple agents in order to have a better chance of success?
A: Not usually. Most seller's agents require you to sign an agreement that promises them the commission, no matter who finds the eventual buyer. It's somewhat easier to use multiple agents if you're a buyer and haven't signed an exclusive agreement with one of them, but it can be confusing and exhausting. And once a realtor finds out that a competitor is also working with you (and they will!), they'll probably be a lot less willing to put in all the work necessary to get the job done.