What's the first thing that comes to mind when you think of North Carolina?
ACC basketball? The Blue Ridge and Smoky Mountains? Barbeque? History? The gorgeous beaches on the Outer Banks?
Those are all great reasons to visit North Carolina. They're great reasons to live there, too.
But many of the state's ten million residents will tell you that there are even better reasons.
North Carolina provides what might be the perfect mix of cosmopolitan cities, college towns, and smaller communities where everyone knows most of their neighbors.
The weather is as close to perfect as you can find on the East Coast (except perhaps in the mountains), with summers that aren't oppressively hot, winter temperatures that usually stay above freezing, lovely springs and spectacular autumns.
The economy is strong and diverse, with an unemployment rate lower than the national average.
The cost of living is much lower than in most states, and significantly lower than in major metropolitan areas like Washington D.C.
And median housing prices, while higher than in many parts of the south, are affordable and give North Carolina an economic trifecta. Rents and median home prices are also well below than the national average.
You're sold? You probably won't regret it. The next task, though, is figuring out where in the state you should live.
We can help with that. Here are the best places to live in North Carolina.
How We Selected These Communities
First, a brief note on the criteria we used to choose the "best places to live."
When deciding on where they want to settle down, some people focus primarily on a city's culture, or its dining and entertainment options. Others are more concerned with rents, home prices or tax rates. Some look for proximity to the ocean or the mountains, hiking trails or golf courses; the quality of school systems or city/town services matters most to others.
We've tried to balance all of those factors in ranking North Carolina's best places to live. We'll highlight the median home price in each community, since that could easily determine whether you could afford to relocate there. But we'll also mention the other reasons why each area might be the ideal place to find your new home.
Best Places to Live in North Carolina
1. Raleigh
North Carolina's capital city has a lot to offer. So much, in fact, that the personal finance website Bankrate recently called Raleigh the best place to live in America. Their business model may have led them to focus most on the city's reasonable cost of living and rental prices, and the fact that the median home price in Raleigh ($360,000) isn't prohibitively higher than the median for the state ($260,000). But there's so much more to the story.
Raleigh is booming. High tech is leading the way, but leading companies in a number of industries are moving to the area. That means there are employment opportunities galore. The food, music and arts scenes are robust, there are 11 different universities and colleges in Raleigh, and the nearby hiking trails and golf courses are plentiful. And if you're a college basketball fanatic, Chapel Hill (another wonderful city) is just 40 miles away, and Durham is even closer.
Just as importantly, the people are friendly and the city itself is beautiful. Summers can get hot and humid, but winters are generally mild. The ocean is a couple of hours away, but almost all of the best of North Carolina can be found in Raleigh.
If money is less of a concern and you prefer to live outside of the city, the suburb of Cary (about 20 miles away) is a wonderful option, with a median home price of $451,000.
2. Asheville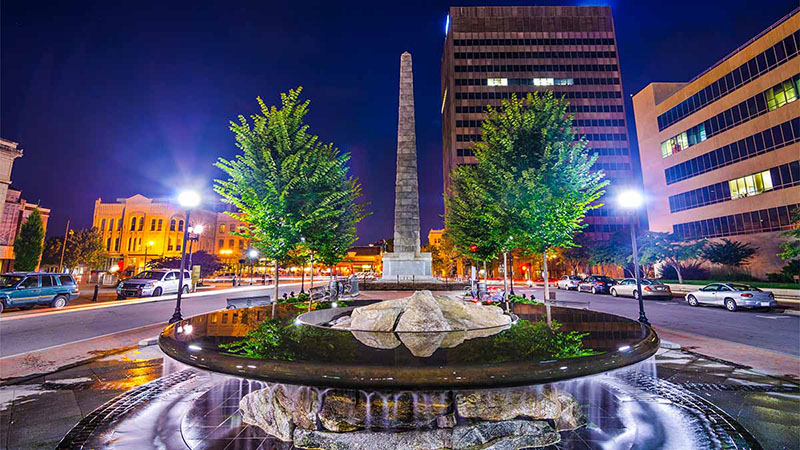 Asheville is a city of nearly 100,000 people, but it can feel more like a small town. That doesn't mean it's cheaper to live there than in Raleigh; perhaps surprisingly, the median home price is even higher, at $385,000. You get a lot of fabulous North Carolina lifestyle for that money, though.
Asheville is surrounded by the Blue Ridge and Great Smoky Mountains. That not only makes for breathtaking scenery, but incredible year-round hiking, biking and fishing. Ski resorts are nearby as well, yet winters in the city itself are usually mild with average daytime temperatures around 50°. There's an awful lot to do in Asheville itself, particularly for foodies, craft beer lovers and concert goers (one music site says Ashville is one of the country's ten best music cities). And if you feel the need to visit a big city, Charlotte is just two hours away. Speaking of which…
3. Charlotte
Charlotte is certainly a big city, with nearly a million residents. In fact, it's the second-largest city in the Southeast, only slightly behind Jacksonville in terms of population. However, you'll pay less – often, a lot less – to live here than in other major cities along the East Coast. The cost of living is very reasonable in comparison, as is the median home price: $360,000. (Compare that with the median price in the closest big city heading north, $600,000 in Washington, and you'll see what we mean.)
Charlotte can definitely seem like a big city during rush hours; the tech, banking and health care industries (among others) have flocked there over the last 15-20 years. The overall vibe in the city, however, is more laid-back with a neighborhood feel. Coffee shops, restaurants and parks are seemingly always down the street, The nightlife is lively, non-stop concerts and pro sports contribute to the city's "big city with a small city vibe" identity, and golf courses, beaches and the mountains are all within easy reach. The weather is agreeable, and South Carolina is just a stone's throw away.
A great but more-expensive suburb to consider if you want to live outside of Charlotte is Waxhaw ($525,000 median home price), a small and very cool town, and a horse farm mecca.
4. Chapel Hill
Mention Chapel Hill to most people, and they'll immediately say "basketball" or "Tar Heels." But there's much more to this third city in the famed North Carolina triangle (Raleigh and Durham are the others) than the University of North Carolina's legendary basketball team.
Chapel Hill is actually classified as a town rather than a city, although with a population over 50,000, it could really be considered either one. It's a great community for younger professionals and families, with good schools, a low crime rate, lots of parks and great restaurants. (A few years back, Bon Appetit named Chapel Hill the "foodiest" small town in the nation.) All of the recreational and leisure opportunities available in the triangle are a short drive away – and did we mention the Tar Heels play there, too?
There's a price to pay for living in this wonderful community, though. Median home prices are among the highest in North Carolina, at $489,900. Here's the good news, though; statistics show that those living in Chapel Hill make more than their counterparts in Raleigh or Durham. The cost of living is quite reasonable as well.
5. Wilmington
"Isn't North Carolina on the ocean?" Yes it is, but much more of the state is inland, so we haven't mentioned an oceanside community yet. Let's fix that by focusing on Wilmington, on North Carolina's southern coast. It costs more to buy a house in Wilmington than in more rural areas of the state, but a median home price of $334,200 can be easier to swallow when you're right near the ocean.
You get much more than ocean breezes when you live in Wilmington. The beaches are clean and beautiful, and there are many small and cool beach towns nearby (complete with great restaurants serving locally-caught seafood). The food and craft beer scene in the city is terrific, there's good music and lots of festivals, the people are laid-back and friendly – and of course, there's swimming, boating, fishing, and even fabulous surfing at Wrightsville Beach. And if you've been wondering why you've heard of Wilmington before, Michael Jordan grew up there.
6. Durham
Calm down, Duke fans. We haven't forgotten about Durham. We just hadn't gotten to it yet.
We're not going to get into a UNC-Duke basketball debate, but we will say that living in Chapel Hill and Durham each has its advantages and disadvantages. For example, houses are much more affordable in Durham with a median home price of $330,000, although amenities are slightly less available and the crime rate is somewhat higher.
Durham is still one of the best places to live in North Carolina, though. It's important to realize that Duke is much more than basketball; it's one of the nation's premier universities (as is UNC), and the benefits that come with that are numerous. Of course, that means the city is a great college town, with wonderful food, arts, music and entertainment, but it's also known as a global center for medicine and the healthcare industry. The cost of living in Durham is even lower than in Chapel Hill or Raleigh, but you're not far from everything those cities have to offer as well.
7. Morrisville
We've already mentioned several great suburbs as "afterthoughts," but a few of them deserve their own listings. One of them is Morrisville, located between Raleigh and Chapel Hill. Naturally, living here gives you easy access to all of the features you'll find throughout the North Carolina triangle, but it has its own selling points. Morrisville is a quiet town with outstanding schools and the vibe is much more family-oriented, with parks, events and festivals to visit all year long. Many people live here and commute to next-door Raleigh, but Morrisville has become popular as a destination for those setting up their own small businesses.
Homes in Morrisville, as you'd probably expect, are more expensive than in Raleigh, but not by that much. The median home price is $392,000, a small price to pay (if you can afford it) for a more-sedate lifestyle.
8. Winston-Salem
If you've been experiencing sticker shock while reading our rundown of the best places to live in North Carolina, this one's for you. Winston-Salem combines many of the benefits of living in a larger city (population 245,000, 4th largest city in the state) with more affordable housing. The median home price here is just $218,500, well below the state's median price of $260,000, and the cost of living is lower as well.
The city is more than an hour west of the Raleigh-Durham-Chapel Hill triangle we've discussed repeatedly, up toward the Virginia border. Quite honestly, there's not as much to do in Winston-Salem in terms of entertainment and nightlife, but that's one of its charms. This is more of a friendly city where family and outdoor activities are more important than big-name concerts and big-time college sports (although, we have to add, Wake Forest is located here). You'll still find an arts and culture scene, just on a much smaller scale; the people are friendly, and the temperatures are moderate. There's a lot to like.
9. Mills River
Those looking for a smaller, more rural community can't do much better than Mills River – although they'd better be ready to open their wallet. The town is south of Asheville, near Great Smoky Mountains National Park; but despite the rural feel in Mills River, it's attracted a large number of artists, media workers and other professionals, many of whom telecommute. That's resulted in a relatively-high median home price in the town, nearly $350,000. It's risen 20% in just the last year.
Mills River residents, by and large, are educated and affluent, and that's reflected in the quality of the town's school system. The majority of residents own their own homes, and this is a community where most entertainment options are family-oriented. The proximity of the Great Smokies, other national and state forests, and wilderness areas make outdoor pursuits popular and enjoyable. The weather is temperate as well, with high temperatures averaging 84° in July and a balmy 47° in January (when lows only sometimes go below freezing).
10. Southern Pines
Our final best place to live in North Carolina is for golfers. Southern Pines is west of Fayetteville, and about a third of the way from Charlotte to the Atlantic Coast. More importantly, though, the famed Donald Ross-designed Southern Pines golf club has been restored, Pine Needles and Mid Pines are also located in the town, and the celebrated Pinehurst courses are just ten miles away. This town is truly golf heaven.
The weather in Southern Pines is pleasant, the atmosphere is that of a small suburban town, and the friendly residents are largely a mix of retirees and younger families. In fact, so many families are moving to the town that outstanding new schools are built often. There's a great park system in the community, with walking trails, lakes and extensive gardens, too. The median home price in Southern Pines is $385,000, underscoring the desirability of living in this lovely North Carolina town.