Selling a home can be one of the most stressful experiences a human can experience.
We're not even talking about the emotions you might experience when selling a house that you may have lived in for years; a house where you may have raised your children or celebrated joyous family events; a house you may have redesigned or renovated to become your dream home.
No, we're talking about all of the other stuff:
Finding a realtor
Deciding on an asking price
Leaving the house multiple times a day for showings and open houses
Dealing with offers, counter-offers and paperwork
Arranging requested (or demanded) repairs and contingencies
Packing, hiring movers, and finding a new place to live – while going weeks without knowing exactly when (or even if) the sale will close
All of the craziness, which is even harder to deal with if you're still going to work every day and raising a family, can create enough stress to make you consider doing something drastic.
Like taking an immediate cash offer for your house and simply walking away.
Of course, that's not why most people sell their home for cash. But it could be an understandable decision.
One of the many companies that will make you an immediate offer to buy your house for cash, and can close the deal within a couple of weeks, is Opendoor.
Is Opendoor legitimate? Are they worth dealing with? And who should consider using them?
Good questions. We have good answers.
Why Sell a Home For Cash?
All of the stress-inducing reasons we've mentioned might cause some people to think about taking a cash offer and avoiding the hassle of selling their home through a realtor. If you're one of them, there are companies that buy houses for cash who are more than willing to help.
It's well-known and accepted, however, that you'll probably make more on your home sale by going the traditional route, even if it's more "painful" in the short term. After all, home sales and purchases are the biggest financial transactions most people make in their lifetimes. It wouldn't make sense to take less money just to make life easier for a month or two.
But there are some people for whom an immediate cash payout definitely makes sense.
For instance, those who own a home in serious disrepair but don't have the money or time to fix it up before selling it. Or those who have to make a sudden move due to a job change or family problem. Or those who've inherited an old house they don't really want, and just want someone to take it off their hands.
In all of those cases, the primary goal is to simply get out, rather than to maximize the price the home can bring on the open market.
Even in situations like that, naturally, the owners don't want to "give away" their house; they still want to get as much for it as they can. That means doing some comparison shopping, since some companies will pay more immediate cash than others.
The most notorious examples are house flipping companies, which purchase distressed homes, fix them up and resell them. They normally offer between 60-70% of what a house would be worth after renovation. Those low offers can be somewhat justified, but they're still painful to receive and accept.
Many sellers find that so-called iBuyers (instant buyers) are a better option. Most of those buyers don't want distressed homes; they want homes that are in good shape or only need minor repairs – and they'll pay higher prices than home-flippers.
The offers that iBuyers make aren't likely to be as high as the price a buyer would pay on the open market. But for the motivated sellers we've discussed, the offer might be high enough to make the deal worth doing.
iBuyers have become highly visible in recent years. They include well-known real estate companies like Zillow and Redfin, which have each opened their own iBuying services.
But the original iBuyer, is still going strong. It's a company called Opendoor.
Bottom Line: Home sellers who have to be out of their house quickly, and even some who simply don't want to go through the hassle of traditional real estate sales, can choose instead to sell their property to a company that pays immediate cash for homes. They'll normally receive less for their house than it would be worth on the open market, particularly if they're selling a distressed home to a flipper. iBuyers usually make higher offers, and most are only interested in houses that are in good condition.
What is Opendoor? Are they Legitimate?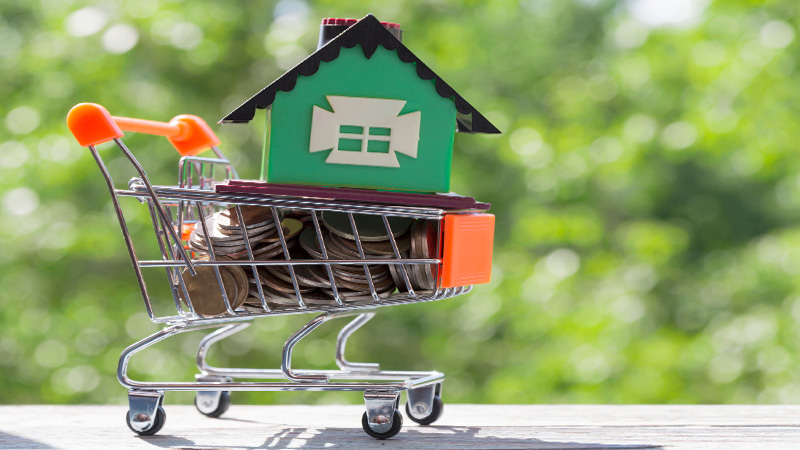 Opendoor was the nation's first iBuyer, founded in the mid-2010s. And the company is definitely legitimate, since it's backed by an enormous multinational conglomerate, the SoftBank Group.
Today, Opendoor operates in big cities located in 12 states, mostly in the West and South (Arizona, California, Colorado, Florida, Georgia, North Carolina, Nevada, Oregon, Tennessee, Texas and Utah, and somehow Minnesota snuck in there as well). The company doesn't service all cities in those states; for example, they buy homes in San Diego, Riverside, Los Angeles and Sacramento, but not elsewhere in California.)
Opendoor has expanded its services over time. They now also sell homes through an online portal, and even have a "trade-in" service for homeowners who want to move to a new house.
Their primary business, though, remains buying houses for cash.
Opendoor isn't interested in all homes, even if they're in one of the states where the company operates. It primarily purchases single-family homes and townhouses (plus condos in some states) that are in good condition, were built in 1960 or later, and have a median value between $100,000 and $500,000.
They have other guidelines as well. They don't buy homes with large amounts of property (they only consider lots of 0.5 acres or less), the house must be occupied by its current owner, and they're not interested in mobile homes or houses located in flood plains.
Your home fits the requirements? Great. Let's see how the Opendoor process works.
Bottom Line: Opendoor was a pioneer in the iBuyer industry and is both reputable and stable. They purchase newer owner-occupied homes that in good condition and in the median price range for their area – but only in twelve states.
Selling Your House to Opendoor
Opendoor's basic process is essentially the same that you'll find with other iBuyers – which makes sense, since they developed it in the first place.
You request a cash offer from Opendoor by filling out a form on their website. You'll be asked to provide information about your home, including its address, size, features, and general condition.
The company then puts all of that information into what's called an "automated valuation model" (AVM), proprietary software that evaluates your house based on the information you've submitted and a number of metrics on your neighborhood and the local real estate market. Within about 24 hours, they get back to you with a cash offer for your home.
You'll then have a few days to decide whether to accept the offer. If you do, Opendoor will have a property inspection done (at their expense) to check the condition of the house. At that point, you'll either have to make any requested repairs (subject to company approval), or agree to have the cost of the repairs deducted from the cash offer.
If all goes well, you can schedule the closing with Opendoor so it fits the timing of your move. The company is flexible, able to close in as few as 14 days or as long as two months.
Now for the big question: how much do they pay?
Perhaps surprisingly, their offers come in pretty close to a home's true market value. That's not just anecdotal evidence, either. Real estate consultant Mike DelPrete crunched the numbers and found that Opendoor's offers average just 1-2% below homes' actual value.
It's completely understandable if your immediate thought is "Great! I get almost the same return, in immediate cash, with almost no hassle – and I don't have to pay real estate agent commissions!" Hold that thought, though.
It's true that selling your home to Opendoor lets you avoid paying the buyers' and sellers' commissions, which usually run between 5-6% of the sales price.
However, Opendoor charges you a transaction fee for the privilege of selling your house to them. How much is the fee? You probably won't be surprised to learn that it's about 5%. So in effect, it's a wash. You don't pay commissions, but you pay a fee that's essentially the same amount. (On the bright side, the company has only recently capped their fee at 5%. It used to run as high as 15%.)
That's still not bad, but you'll still be likely to end up with a slightly lower payout for your house than if you'd used a realtor. You'll also be forfeiting the chance to let potential buyers bid against each other to pay more than the home's value, which can often happen in a hot real estate market.
Is using Opendoor worth it? It could be, particularly if you have to sell your house in a hurry, since you certainly won't take the bigger financial bath you'd suffer when selling to a house-flipping company. It can't hurt to at least request an offer – that is, if you live in one of the markets they serve.
There's one other option to consider, though.
Opendoor and other iBuyers have given birth to a new type of house buying operation. Companies like SellYourHome.com also pay immediate cash for homes, making offers in 24 hours and able to close in as few as 24 hours (or as long as three months) after offer acceptance.
But unlike their competition, they purchase any type of home, in any condition, in any city or state. Their offers are based on a combination of computer models and on-the-ground inspectors, so they're more likely to consider the factors that could make a home worth more than the number an algorithm churns out.
Those offers end up being very close to market value, just like Opendoor's – but with no transaction fees or commissions. In other words, you don't have to subtract 5% from the offer to figure out how much cash you'll be receiving. The offer is a "real" one.
"New age" cash buyers like SellYourHome have made these types of sales more accessible to homeowners throughout the country, and in most cases, more profitable. They're also worth checking out before deciding whether to use a realtor or sell your house for cash.
Bottom Line: Opendoor makes cash offers that come very close to most houses' market value, as long as the home is in one of the markets where they operate. However, Opendoor also charges a 5% transaction fee, which can be as much as realtors' commissions. The process is simple and can be completed in just two weeks. Newer companies like SellYourHome provide similar services, but they can move even faster and don't charge transaction fees.
Buying or Trading a House with Opendoor
First things first: you can't use Opendoor to buy a house that you saw on Zillow or Realtor.com that you really like. The only homes that are available for purchase (or trade) from Opendoor are the ones they have listed on their app. Unfortunately, the selection is rather slim in some cities. (There's one exception; if you want a house that they're not selling directly, they'll connect you with a real estate agent who will charge their regular commission.)
The homes that Opendoor lists are available for self-viewing, via a lockbox system, at your convenience. If you want to buy, you make your offer through the app or their online site, and if it's accepted you can choose your own closing date. They'll provide an agent to help you with the buying process or the closing if you'd like, but naturally, for a fee. Oh, and if you don't like the house you can sell it back to them within three months – but that'll cost you a 3% fee.
Trades work in a similar way. When you submit your house for an offer you can also submit information on the house you'd like in return; the company will handle both transactions simultaneously. The only hitch is that both deals have to close simultaneously and within 30 days. There's a bonus, though. In some markets a trade entitles you to a 1.25% rebate (up to $10,000) on your home's sale price.
Is it worth buying or trading through Opendoor? Probably not for most people, since it severely limits your choices. It doesn't hurt to look, though.
Bottom Line: Opendoor offers homes for sale, and also allows you to trade your house for one that they've listed on their app. Most people will likely find these options unsatisfactory.
Opendoor: The Summary
Opendoor paved the way for a new type of real estate business: buying homes that are in good condition, for cash. Their service is easy to use, the offers they make are usually quite close to a home's true maket value, and they can close a deal quickly for a full cash payment.
However, Opendoor only operates in limited geographic areas, they will only consider certain types of houses which must also fall into median price ranges, and unlike newer companies like SellYourHome.com, Opendoor charges a 5% transaction fee for every home purchase. Even so, it's a service that's worth considering if you need to sell your home quickly.
Opendoor also sells homes and will allow you to trade your home for another, but those aren't terrific options for most.
Opendoor Reviews: FAQ
Q: Will Opendoor buy my house for cash if it needs a lot of work?
A: Probably not. If the repairs are easy and largely cosmetic, they may be willing to work with you. If the house is more accurately described as a "fixer-upper," Opendoor will be unlikely to be interested.
Q: How much money will I end up losing if I sell to Opendoor instead of through an agent?
A: It's impossible to say, since each house and market is different. However, a respected numbers cruncher has found that most offers are within 2% of a home's actual market value. Remember, however, that figure doesn't take into consideration the 5% transaction fee that you'll have to pay.
Q: If I feel that Opendoor's offer is too low, will they negotiate?
A: They say they won't, although a few anecdotal reports say that they have on occasion if they really want a specific home.
Q: Can Opendoor burn me by lowering their offer after I've accepted it?
A: Not exactly, but their offer is subject to adjustment after they've inspected your home and seen its actual condition. You can usually avoid that if you give them an accurate description when you ask for an offer, and agree to make any repairs that they deem necessary at your own expense.
Q: Should I buy a house from Opendoor?
A: If you see one on their app that you absolutely fall in love with, go for it. You'll have a much wider selection if you go a different route, though.