Even if you've been searching for a reputable company to purchase your home for quick cash, you've probably never heard of HomeVestors.
How can that be, if they're supposedly the #1 cash buyer for real estate in America? (That's according to the company's own numbers; there's no authoritative data to substantiate the claim.)
It's simple, really. HomeVestors is the firm's corporate name, and their real business is operating a huge real estate franchise operation. They have franchisees in 46 states, all of whom pay substantial fees for the right to buy homes for cash under the trademarked name "We Buy Ugly Houses."
So you probably do know HomeVestors. It's virtually impossible to drive more than a few miles without seeing "We Buy Ugly Houses!" signs littering the roadside and plastered all over utility poles.
Their marketing approach may seem sketchy, if not just tacky. But there's a big company behind the signs and the business, and its franchisees have been buying homes for cash for more than 25 years.
Even so, should you trust a HomeVestors buyer when you're ready to sell your house? Let's discuss.
HomeVestors: The Background
HomeVestors directly targets its services to distressed homeowners (those who are in financial trouble or in danger of foreclosure). But that's not how the company got its start.
A real estate agent founded HomeVestors in the late 1980s, working as a single home flipper. He started selling franchises in 1996; there were 17 franchisees that first year, and 135 by 2003. However, many of the homes the company worked with were purchased from banks and other lenders who held title to undesirable houses in disrepair.
When the Great Recession hit in the late 2000s and early 2010s, HomeVestors shifted almost all of its focus to purchasing homes from people who were facing foreclosure. That led to a sharp increase in HomeVestors' value. The company, which has changed hands several times since the founder's death in 2005, is now owned by a private equity firm and has well over 2,000 franchisees throughout America.
In short, HomeVestors is well-capitalized, reputable, and able to deliver on its financial commitments.
Virtually from the start, the company has focused on the odd but memorable slogan "We Buy Ugly Houses" in its direct marketing, on billboards and even on TV. The slogan struck a chord; HomeVestors owns 22 different trademarks based on the concept of "ugly" houses.
Franchisees pay anywhere from $34,000 to $75,000, plus ongoing fees, for training, support and the right to operate in a non-exclusive territory with the trademark "We Buy Ugly Houses." And the company has won numerous awards in the industry for franchisee satisfaction.
Are home sellers who use the service just as satisfied? Read on.
Bottom Line: HomeVestors is a well-funded and longstanding real estate investment company that operates through franchisees throughout the United States. Most people know of the company through its trademark slogan, "We Buy Ugly Houses." Franchisees pay a good deal of money for the right to run their local businesses, and most are pleased with their decision to become part of the HomeVestors network.
How HomeVestors Works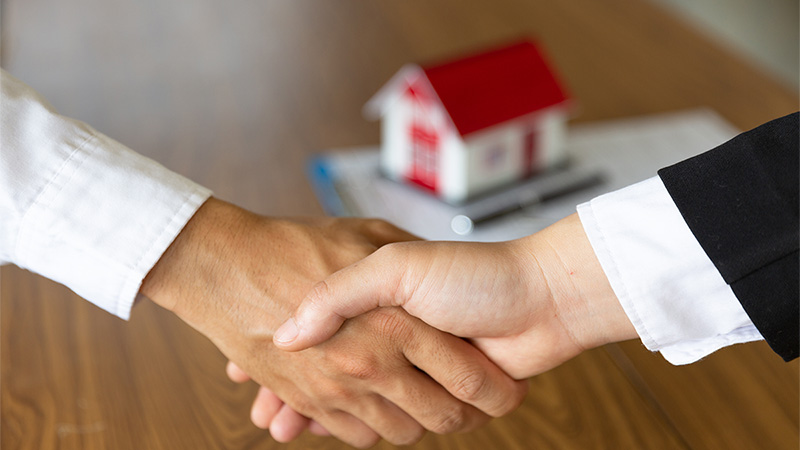 You're probably familiar enough with home flipping to guess the nuts and bolts of how "We Buy Ugly Houses" franchisees operate.
They find homeowners who are anxious (or desperate) to sell, mostly through advertising campaigns – primarily using the ubiquitous, amateur-looking signs that are hung throughout the franchisees' territories.
They make almost-immediate offers to purchase the houses for cash; much less cash, of course, than comparable well-maintained homes would fetch on the open market. They fix up the houses they buy, and (theoretically) sell them for handsome profits.
Here's an inside look at how that process works.
First, you contact the local "We Buy Ugly Houses" operation in your area. Unlike so-called "iBuyers" who collect a lot of information on your home via an online form and then use computer algorithms to come up with an offer to purchase, HomeVestors franchisees only require basic information initially.
A representative then visits your house and conducts a full inspection and evaluation. A short time later – if they're interested in buying – they'll make an all-cash offer on your home. The entire process, from first contact to closing, can take just three weeks (or longer if you desire). That's much faster than the traditional home sale process, which can take months to complete.
There are no commissions or service fees when you sell your house to a HomeVestors franchisee.  You don't have to make any repairs or even clean up before you move out. That's all figured into the price you're offered for the property, since the franchisee will be fixing up and cleaning the home before they flip it to another buyer.
If that all sounds too easy to be true, it really isn't. The process is fast, streamlined and simple. However, there's a big catch to consider before picking up the phone and calling the number you see on those "We Buy Ugly Houses" signs.
Bottom Line: The HomeVestors home purchase process is easy to understand and easy to complete. You contact them, they come to check out your house, and if they want to buy it they'll make an offer virtually immediately. It can take just a few weeks from start to finish, you don't have to make any repairs, and they pay in cash.
What Does HomeVestors Pay For Homes?
Ah, that's the important question.
You surely understand that their offer won't make you rich. For the most part, they're purchasing homes in fair-to-poor condition that "nobody else" would want in their existing condition. They'll have to invest a good deal of money into the houses, in order to bring them up to a level where they're saleable. That's the reason for the "Ugly Houses" slogan – they want fixer-uppers, not homes that are ready for sale.
Why would HomeVestors want those houses? As bank robber Willie Sutton once reportedly said, when asked why he robbed banks, "that's where the money is." If a franchisee can purchase a home that needs lots of work – or one that the owner has to sell right away for another reason – they can usually get it for a bargain-basement price. And after it's been fixed up, they can sell it for a big profit.
That's why you'll probably receive a shockingly low offer for your house from the "We Buy Ugly Houses" people. That's their business model.
How low an offer should you expect?
Let's start with an important qualifier. Each franchisee determines its own pricing structure, so there's no hard-and-fast rule used to determine the offer you'll get from a HomeVestors operator. Truthfully, a few of them reportedly go way below the "usual" level for purchase offers, if they can get away with it.
Generally speaking, though, a "We Buy Ugly Houses" offer will offer no more than 70% of the highest selling price a realtor would be able to get for the home (under ideal conditions). That's because most HomeVestors franchisees use what's called the 70% rule.
The computation starts with the house's "AVR" ("after repair value"), the amount the house could theoretically sell for after it's been fixed up. The AVR is multiplied by 70%, and then the costs of necessary repairs are subtracted. That number becomes the HomeVestors offer, and the difference between 70% and 100% represents the profit that the company hopes to make on the deal.
For example, consider a house that's potentially worth $300,000, once $35,000 worth of repairs have been done to put it in saleable condition.
$300,000 x 70% = $210,000 – $35,000 = $175,000
That can be a tough pill to swallow. You see a neighbor's house selling for $300,000, and HomeVestors offers you $175,000 for yours?
Take a step back, though, and you'll see that the offer isn't quite as insulting as it first appears. If you spent $35,000 on your own to fix up the house, and then paid the traditional 6% realtor commissions (another $18,000), you'd really be clearing $247,000 for your house on the open market. (One important note: some HomeVestors franchisees reportedly mark up the price they quote for needed repairs, earning extra profit on the deal.)
$247,000 vs. $175,000 still isn't great – but you'd be able to wash your hands of the house in a few weeks, rather than a number of months. You'd also be saving the mortgage payments, taxes and insurance payments you'd have to make during all those months you were trying to sell the house.
So selling to HomeVestors involves a tradeoff. Not an ideal one, certainly. But being able to get quick cash – even if it's a disappointing amount of quick cash – is a deal that works for some home sellers.
Bottom Line: HomeVestors franchisees offer substantially less for houses than they'd fetch on the traditional real estate market. Their actual offers vary from market to market, but they're usually 70% of a home's theoretical market value, minus the cost of needed repairs. That's an enormous disappointment for many sellers, but it's an acceptable tradeoff for some who need (or want) to sell in a hurry.
Who Would Sell Their House to HomeVestors?
We've already mentioned one of the groups that HomeVestors focuses on when marketing their services: homeowners who are close to foreclosure. If those people don't do something, they're likely to lose their home – and quite possibly, any equity they've built up – to their bank or mortgage lender.
There are many others who need or want to get what they can for their house and move quickly, though.
People who may be current with their mortgage, but are facing other serious financial difficulties.
Cash-poor homeowners whose properties need extensive and expensive repairs they can't afford.
Those who have to move quickly, perhaps because of family issues, divorce, or a new job in a different region.
Homeowners who have been trying to sell through a realtor with no success, and can't wait "forever."
People who have inherited a home and have no interest in occupying it.
Those who simply don't have the patience to deal with repairs, painting and cleaning, followed by a realtor-driven sales process that can take a number of months and try anyone's patience.
That last group probably isn't overly concerned with the return they'll get on their home, if they're willing to take a lowball offer from a HomeVestors franchisee just to sell quickly. The others are driven more by time constraints, and may be willing to take what most would consider "a big loss" in order to get out of their home.
And they're the groups that "We Buy Ugly Houses" investors try to reach with saturation advertising, and even in the case of some franchisees, continual and annoying phone calls, emails and texts. The reason they're so "pushy" is simple: HomeVestors now has lots of competition.
Bottom Line: HomeVestors advertises to, and appeals to, those who need to sell their house in a hurry. Most are in financial difficulty, but those who need to move quickly because of job, family or other considerations may also find the possibility of a fast sale for cash more appealing and important than the highest-possible sales price.
Is HomeVestors the Best Option?
If your goal is to sell your house for the best price, of course not; that should be clear by now. The months-long traditional real estate sales process will nearly always produce the highest selling price.
But if you're trying to sell in a hurry or because of financial pressure, there are other choices that may make more sense, depending on your personal situation.
A number of other home flippers, both larger companies and individuals who may have been motivated by watching too much cable TV, are always on the lookout for homes they can buy and flip. Most aren't as well-funded as HomeVestors, and to be honest, a few are scammers. It's certainly worth shopping around, though, if your home is in poor shape and you want to find someone willing to pay cash to purchase it.
A separate group of home investors is known as "iBuyers." They differ from flippers in one important way: they don't want fixer-uppers, they want homes in good shape that they can resell quickly without much added investment or work. Some very large companies, including Zillow and Redfin, have jumped into the iBuyer market along with big players like Opendoor and Offerpad.
iBuyer offers, usually formulated by computer algorithms, are likely to be significantly higher than HomeVestors'. They operate in a limited number of metropolitan areas, however, and are very picky about the houses they'll buy. Perhaps most importantly, they charge service fees that are as high (or even higher) than the sales commissions you avoid when selling to flippers like HomeVestors.
Finally, a next generation of home investors referred to as "new age" buyers has now entered the competition. These companies, like SellYourHome.com, use a combination of algorithms and in-person inspections to make offers in a day or two, will purchase homes in any condition and in any region of the country, and some can close the deal in a week or even sooner with no commissions or sales fees.
Every seller's situation is different, but anyone thinking about selling for immediate cash should carefully investigate all options, including the "new age" buyers who aren't as well known as flippers and iBuyers.
Bottom Line: There are many home investors, other than HomeVestors, willing to pay quick cash for houses. Some are similar home flippers who offer similar terms; some are iBuyers who only purchase homes in good shape but offer higher prices and charge high service fees, and some are "new age" buyers who provide the best of both worlds to some sellers.
HomeVestors: The Summary
HomeVestors is perhaps the best-known national home flipping service, operating as franchises under the trademarked name "We Buy Ugly Houses." They're only interested in homes in need of serious repair, and focus their marketing on homeowners who need or want to sell in a hurry.
HomeVestors offers significantly less for properties than they'd bring on the open market, and less than most other home investors might pay. They're a reputable company, however, and the facts that they will take houses as-is, pay fast cash, and close in just a few weeks have made them the leading home flipping investors in America.
HomeVestors Reviews FAQ
Q: Am I definitely going to take a loss on my home if I sell to HomeVestors?
A: There's no way to sugarcoat this one: yes. The company's goal is to make a profit by purchasing properties for low prices, fix them up, and sell them for market value; that only works if they pay lower-than-market prices for homes. But that tradeoff may worth making for people who need to get out of their house quickly, don't have the money to make necessary repairs that would make the home saleable on the open market, or simply just want to wash their hands of a house.
Q: Can I negotiate with HomeVestors for a higher payout?
A: There's no firm answer, since you'll be dealing with a franchisee who has the ability to set their own prices and negotiate if they want to. Most won't, but those who offer exceptionally low payouts have been known to be willing to increase their offer.
Q: I see signs in my neighborhood advertising "We Buy Homes" or "Sell Your House Fast." Are those HomeVestors franchises?
A: No. People pay a premium to use the well-known HomeVestors slogan "We Buy Ugly Houses," and that's how they advertise. Those trying to compete with HomeVestors use similar slogans for exactly the reason you asked the question: they're trying to confuse you. Some may be reputable, some may be scammers – it's up to you to do your due diligence.
Q: If I'm willing to take a low payout, can I trust HomeVestors?
A: Yes, generally speaking, although some franchisees have been known to make lowball offers to home sellers. The company as a whole, though, is reputable and backed by substantial assets, so there's no overall risk.