In the early days of the Internet, companies went crazy trying to register memorable domain names that reflected their business. Most great domains have long since been taken, so companies have to spend big bucks buying the "perfect" domain from whoever already owns it.
For example, a Texas-based discount real estate broker probably spent a lot of money to acquire the domain door.com when it began operations in 2016. That's understandable; it's a short, memorable domain name that's evocative of homes and real estate.
There's just one problem. Door Real Estate – the company that bought the premium domain name – only operates in four states. So even though you might remember the name door.com, it won't do you much good unless you're trying to sell a home in Texas, Florida, Georgia or Colorado. Those are the only areas that Door currently serves.
If you happen to live in one of those states, is Door worth using? And can you trust them?
Let's unpack.
The Somewhat-Troubled History of Door Real Estate
It was 2016 when 28-year old Harvard grad Alex Doubet launched Door Real Estate, claiming he was motivated by seeing the problems his mother experienced when trying to sell her home through a realtor. His company initially focused on real estate in the Dallas-Fort Worth area, and its model was based on flat-fee agent commissions that were lower than the industry average.
The first year went well for Door, which was named an "innovator of the year" by an industry publication. The company then raised more than two million dollars in capital for expansion. By 2019, Door Real Estate was operating in nine states and looking forward to a nationwide rollout of its services, with Doubet publicly blasting the traditional realtor commission structure as "outdated" and "too high."
Door's rapid growth came to a screeching halt in early 2020, however. A large round of new funding fell through, the company laid off almost all of its agents, and most of its expansive Texas office space sat empty.
Since that time, Door Real Estate has retrenched. It now operates in just four states, selling homes for clients on a more-standard percentage basis.
Door has changed its pricing model several times during that difficult period, but it still promises commission savings as the primary benefit for using the company's services.
There's nothing to indicate that home sellers should worry about Door's current financial stability, but its recent past may give some potential clients at least a little pause before choosing to use this discount realtor.
Bottom Line: Door Real Estate launched in the mid-2010s and quickly became an industry sensation because of its flat-fee model. Financial difficulties have forced the company to lay off employees, switch to a commission-based model, and shrink its service area which is now limited to Texas, Florida, Georgia and Colorado. There are no obvious indications, though, that Door is financially unstable as it continues to do business.
Door Real Estate's Commission Structure
One caution before we go into the details: Door is somewhat vague about some of the details of its service, and you really have to do some digging just to find its current pricing model and states of operation. Based on past history, the company may change its operating model without notice, so do your due diligence, and ask their representative all the pertinent questions before deciding to use their brokerage.
Here's an example. For quite a while, Door Real Estate touted a $5,000 flat listing fee as the primary reason to use its services. Today, Door is instead touting a 1.5% flat listing fee as its major selling point, apparently to compete with other discount brokers like Redfin. It appears that for a while, the company still had a minimum listing fee of $5,000, but they've now eliminated any mention of a minimum seller's agent commission.
That change can make a big difference. A 1.5% commission is a better deal than $5,000 fee, when a home sells for less than about $335,000. By comparison, a 1.5% commission for a $400,000 home is $6,000 – quite a bit higher than the old $5,000 flat fee.
In other words, if your house is worth more than $335,000, the current Door Real Estate fee structure will end up costing you more than the old one. Otherwise, it's a better deal than it used to be.
However, that's just an indication that Door may change its pricing model again, between the time this was written and the time you read it.
Let's get to the key point to consider when you're ready to sell your house. The traditional seller's commission is 2½-3% of the selling price. That's as much as double the amount that Door Real Estate currently charges for the sale. (Also remember, the seller is also responsible for the 2-3% buyer's commission no matter who acts as their agent – and Door's policy is to always charge the home seller 3%, supposedly because a higher commission will convince buyers' agents to push the house to their clients.)
Here's an example of how Door Real Estate's commissions work. Using the traditional 3% commission as a benchmark, a seller's agent would receive $10,500 for selling our $335,000 example home. By contrast, Door would charge $5,052 – less than half. For a home worth $600,000, a realtor would collect as much as $18,000, while Door would charge $9,000 for the transaction. That's obviously an impressive savings.
But is it worth it?
Bottom Line: Door Real Estate's financial issues over the last few years have led the company to change its commission structure several times. Currently, Door charges a flat 1.5% listing fee to sell a home, which is essentially half the amount that many realtors charge for their commission. That can mean big monetary savings.
How Door Real Estate Works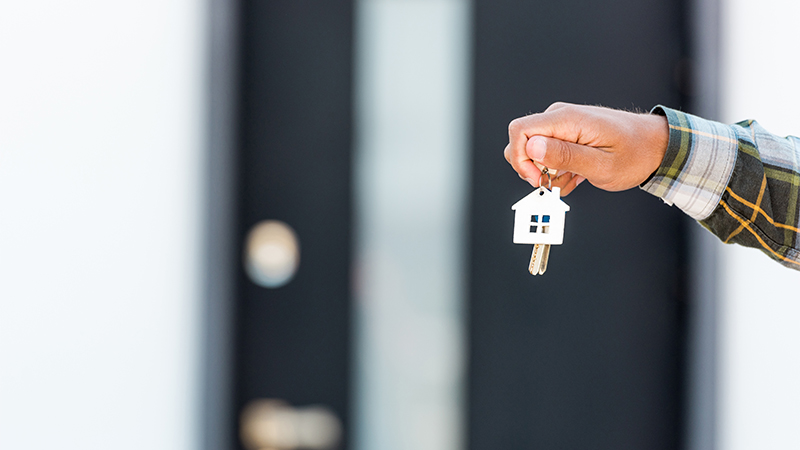 Door is far from the only real estate broker offering discount commissions, and we'll be comparing some of them in the next section.
The more obvious question, though, is how Door Real Estate and other discount brokers are able to undercut traditional realtors on their commission structures. And the answer is almost always the same: they provide less (or no) personalized service to home sellers.
That's definite the case with Door. When you contact them, they take all of your information (including photos of your home) via phone and online portal. Agents never even visit your house. A "market advisor" then uses all of that information, plus publicly-available data on the neighborhood and real estate market, to determine an optimal selling price.
After that, you're handed off to a "listing advisor," who will send a professional photographer to the home. (That's the only person the company ever sends out). The listing advisor will function as your primary Door contact, although other staff members may take your calls or deal with your listing as well. The company will also drop off yard signs and a lockbox (that's where you leave your key for buyer's agents who are going to tour your home with their clients.)
A few days after photos are taken, the listing goes live on all major online platforms and in the Multiple Listing Service (MLS), the industry bible. Potential buyers and their agents tour your home on their own, with no Door representative present.
When and if offers come in, your listing agent (or a staffer) will contact you to walk you through those offers and the negotiation process. Phone contact is limited throughout; most of the process is handled through the company's online portal. That applies all the way through the contingent period and the closing; Door handles everything virtually on your behalf.
And that explains how Door is able to offer its services at a 1.5% commission rate. Limited (or zero) personal contact means the broker can operate more efficiently – even if it's at the cost of client service. There's one more factor to consider: agents who are sitting in an office and working as a team are paid salaries, not commissions – so they may not be as motivated to sell your home as an on-the-ground realtor who stands to earn a big payday after a sale.
The lack of personal service may not be a drawback for those with easy-to-sell-homes in a hot real estate market. On the other hand, it can be a huge drawback for first-time, nervous sellers, or for those whose home sale runs into unexpected problems.
Bottom Line: Door Real Estate is able to offer discount commission rates because the company does not provide much personalized – or any in-person – contact and service. Most of the process is managed by a team of back office personnel via Door's online portal, and no agent ever visits the home or the homeowner. That lack of agent involvement may not matter during easy sales, but could become a big problem for more complicated ones.
Is Door Real Estate Worth Using?
If you live in one of the four states where they operate, maybe. But it's not an open-and-shut case.
There are many other discount real estate brokers to choose from, and some are among the biggest names in the industry. For instance, Redfin charges a 1.5% seller's commission, and lowers that fee to 1% if you also purchase your next home through their brokerage. Rocket Mortgage is just launching their own 1.5% real estate agency.
Many other, smaller discount brokers like SimpleShowing operate regionally or locally, with some promising seller's commissions as low as 1%. A few of them (like Homie, active in just the Rocky Mountain states) offer the same "flat-fee" service that Door Real Estate used to provide, but that approach isn't popular in America. Purplebricks, for example, tried bringing its successful flat-fee service from Britain to America, but had to pull up stakes after a couple of years because of a lack of interest. And California-based Reali had to move from a flat-fee to a commission structure for the same reason.
Those are far from your only options. Services like IdealAgent and Clever offer to find a traditional realtor who will provide discount rates or flat fees. You can also negotiate with a traditional realtor; some are willing to lower their fees to at least come close to the deals offered by discount brokers. Or you can try to sell the house yourself (as a so-called FSBO) with the help of a flat-fee listing service.
Here's where careful shopping and research can pay off. Some of these discount brokers operate much like Door Real Estate does, primarily online with little client interaction. Others like Redfin provide much more of a traditional broker-seller relationship – and more of a full-service brokerage – than Door provides. (Each agent may operate differently, however, which is why shopping and research, along with a full interview of potential realtors, is crucial.)
Does all of the hassle involved in finding an agent, negotiating fees, and then doing at least some of the work necessary to market and sell your home give you a king-sized headache? There are other possibilities that may work for some sellers.
Admittedly, these options are designed primarily for owners who need to sell their homes in a hurry: those in financial trouble, those who have to move quickly to start a new job, or those whose family, marital or health situations dictate a fast move. However, homeowners who are more focused on avoiding the hassles of home selling, than they are on their final payoff, may also find these possibilities worth investigating.
House Flippers: Large companies like HomeVestors (the firm behind those "We Buy Ugly Houses!" franchises) purchase homes in poor condition for very low prices in order to resell them after repairs are done. Smaller, local flippers do the same thing. Their immediate cash payouts will be substantially lower than full market value.
iBuyers: Real Estate giants like Zillow purchase homes in good condition, which can be resold quickly. Their fast cash payouts will be bigger than those from flippers, but they charge large service fees that can equal or exceed the level of traditional agent commissions.
"New-Age" Buyers: Newer companies like SellYourHome.com also pay somewhat less than full market value, but they can close with lightning speed without charging commissions or service fees.
If you're trying to minimize the commissions you pay a realtor in order to receive a bigger check at closing, you probably won't find a fast sale for a lower cash payout particularly appealing. It is, however, one option some sellers may want to consider.
Bottom Line: Door Real Estate's 1.5% commission rate can seem appealing, but there are many competitors that you should check out before deciding to use Door's service to sell your home. Some are priced similarly but provide more personal services, while others offer alternatives which may be attractive in time-sensitive situations.
Can You Purchase a Home Through Door Real Estate?
Yes, you can. But there's really no argument for doing it, since the seller pays your realtor's commission for you.
Quite honestly, there no real reason to use a Door agent (who may be overwhelmed with work) to represent your interests, when you can use a full-service real estate agency for no extra cost. That agency probably won't have the somewhat-troubled financial history of Door, either.
Door Real Estate: The Summary
Door Real Estate is a discount real estate broker founded in 2016. It grew quickly for a while, but ran into financial difficulties and had to retrench. Door now sells homes in just four states, via an almost-completely virtual process; no realtors meet with you or show your home to potential buyers. The company used to charge a fixed fee to sell a home, but now charges a 1.5% commission rate for its services.
Door appears to be financially solid for now, but its past history may give potential clients pause. There are also a number of competitive discount brokers that offer the same or lower deal, while providing more in-person service. That, frankly, puts Door Real Estate at a major disadvantage and could lead some to wonder about the company's future.
Door Real Estate: FAQ
Q: Should I trust a company that's had to revise its business model and operating territories several times in the last few years?
A: We didn't bring our crystal ball with us, so we really can't answer that question. There's nothing indicating that Door is currently in financial trouble, and a home sale should only take a few months at most, so there are no flashing red lights. All we can say is there are similar companies (many of which offer more service or better deals) that haven't had the same prior issues as Door.
Q: Is a "virtual" transaction a smart tradeoff for lower commissions?
A: It can be, for sellers who are experienced enough to not need "hand-holding" from a dedicated realtor. However, if a sale runs into difficulties, it could be a huge issue. Trying to work out serious problems via an online platform, with in-house agents who aren't familiar with your listing, certainly isn't optimal when you want to sell your home. The best scenario for using Door might be when selling a desirable home, in a hot housing market.
Q: Since Door won't send an agent to showings, does that mean I have to be there whenever a potential buyer comes through?
A: No, since buyers' agents are accustomed to showing homes on their own. It's not a dream situation, however, since your agent won't be there to answer questions or gently push your house to the potential buyer and their agent. (It's rarely a good idea to attend showings on your own, since most sellers find it difficult to "control themselves."
Q: It sounds like Door Real Estate isn't the best choice.
A: That's a determination for you to make. But since there are a number of similar companies that offer lower commission rates (or charge flat fees), and provide more robust client service, it would be a very good idea to shop carefully before choosing Door.