Swimming pools, movie stars.
It wasn't just the Beverly Hillbillies who thought about sun, glitz, and glamour when they moved to California. Nearly five million people moved to the Golden State during the 2010s. And while some undoubtedly moved there for family or job reasons, there's no question that many decided to go West for the beaches, the climate and the lifestyle.
This isn't exactly a secret, but California is the third-most-expensive state to live in, trailing only Hawaii (almost everything you buy has to be shipped in, driving prices sky-high) and New York. And California home prices are the second-highest in the nation, behind only (you guessed it) Hawaii.
Now, hold your breath. The median home price in California is well over $800,000, nearly $250,000 higher than it was just a year ago. Have your heart set on big city living? If you're on a budget, forget about San Francisco (median home price: $1.3 million) or Los Angeles ($949,000).
One more thing before you decide you want to live a life of surfing, celebrity watching, and sunbathing on the West Coast: most of California is not on the Pacific Ocean, or even close to it. The majority of the state's residents have to drive anywhere from 30 minutes to five hours just to get to the beach.
There's a bright side to not living on or near the ocean, though: houses are usually cheaper. In fact, some might actually be described as affordable – or at least, affordable for the Golden State.
Let's check out the cheapest places to live in California.
1. Barstow, California
We have to lead off with the startling fact that the median home price in Barstow is "just" $230,000. Bear in mind, though, that represents a 44% increase over the last year, illustrating how crazy the California real estate market has been since the early days of the Covid pandemic.
We won't be spending a lot of time discussing the joys of Barstow, because there's a reason for the low housing prices. This small city is located about halfway between Los Angeles and Las Vegas in the Mojave Desert, in a large area called the Inland Empire. In the 1980s, it was known as a haven for gangs and the drug trade; things have somewhat improved since then, but violent crime and property crime rates still remain high.
Barstow is trying to clean up its reputation by opening new outlet malls, stores and restaurants, and it's a very affordable place to live (and not just in California terms). However, if you're interested in the beauty of the desert, and the very hot, very dry climate of this small city north of San Bernardino, we'd suggest checking out Victorville instead. It's 30 minutes away and the median home costs $375,000, but the crime rate is much lower and the schools and services are far superior.
2. Woodlake, California
This is a small, agricultural city in the San Joaquin Valley, southeast of Fresno and west of Sequoia National Park. Woodlake is also about halfway between Nevada and the ocean, but don't count on a quick trip to Vegas – unless you're an accomplished mountain climber and want to tackle the Sierra Nevadas.
Only about 8,000 people live in Woodlake, which is a quiet community with a suburban feel and lots of space. The summers average about 100°, while winter temperatures are usually in the low 60s during the day and around 40° at night. Sequoia National Park, about 90 minutes away, is a fantastic destination for hiking, camping, fishing and backpacking; there's also skiing in the Park during the winter, at the Wolverton Ski Area. If you want to visit the ocean, expect a long drive; Monterey is the closest city on the Pacific shore, about a 3½ hour drive away.
The median home price in Woodlake is right around $300,000, but that's up nearly 20% over 12 months ago and is projected to increase further in the coming years. Buying sooner rather than later would make sense.
3. Imperial, California
San Diego is an absolutely gorgeous city on the Southern California coast. Head about two hours east from there, and you come to Imperial, which is about half-an-hour north of the Mexican border at Mexicali. If that sounds like this small city is in the middle of nowhere, you're not wrong – but it's also a quiet, safe, friendly suburban community with good schools and a growing number of amenities.
Make no mistake, living in Imperial means you're living in the desert. Expect temperatures to regularly top 100° in the summer and stay above 70° in the winter (except at night, when it can plunge into the high 30s). And that means popular leisure activities in the Imperial Valley (the area that surrounds Imperial) include hiking, four-wheeling, and heading north to the mesmerizing Salton Sea. The "sea" is actually a huge salt lake that's not safe for swimming, boating or fishing, but has terrific sand dunes, bubbling mudpots, and an enormous variety of birds and wildlife. There are a number of hot springs in the Imperial area, and of course, there's the nearby city of Mexicali, Mexico.
Homes in Imperial are quite affordable for California, with a median sales price of $305,000 that's growing by more than 10% per year.
4. El Centro, California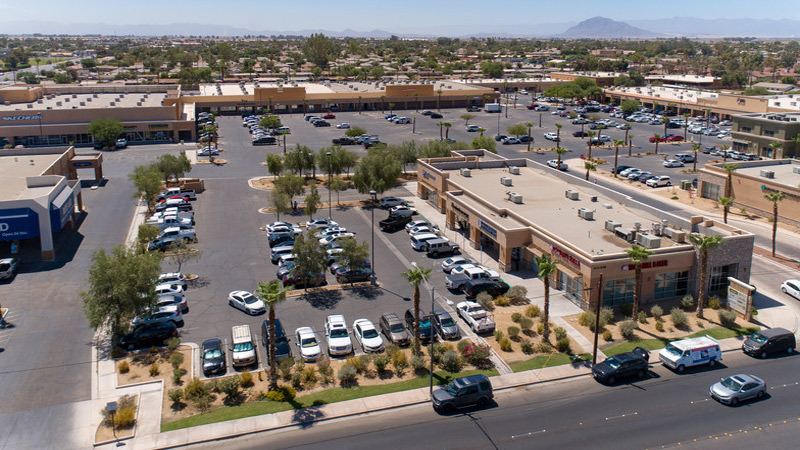 There's not much more to say about things to do in El Centro, which is only a few miles south of Imperial. It's a much larger city, more than twice Imperial's size (with about 44,000 residents), so it's not as quiet or calm as its neighbor to the north. The food and amenities (like hospitals) are better in El Centro, but then again, it's a quick trip to visit them from Imperial.
Those who like their neighborhoods a little busier and livelier might prefer El Centro, though. The median home price there is $310,000, and it's increased nearly 10% over the last year.
5. Bakersfield, California
Spoiler alert: you're not going to find a suburb of San Francisco or Los Angeles on this list. Sorry about that. However, if you want a cheap place to live in California, along with relatively easy access to either one, Bakersfield might be your best bet. It's a short distance from Interstate 5 (or as Californians call it, "the 5"), the main north-south highway between Northern California and SoCal. (Two hours to LA and Santa Barbara, a little more than four hours to San Francisco.)
Since Bakersfield is inland, you won't get nice ocean breezes. Summer temperatures regularly hit 100°, and winters hover around 60° during the day. The city is large (almost 400,000 residents) and spread out, the schools are good, there are lots of parks and hiking trails, there's a nearby ski area, and Sequoia National Park is less than two hours away. If it sounds like a slice of heaven, hang on; Bakersfield also has pollution and crime issues.
The cost of living in Bakersfield is higher than the national average, but lower than in more desirable areas of California. The same applies to homes, with their median price up 10% in the last year to $318,000. And yes, for the Golden State, that's quite reasonable.
6. Fresno, California
Another large city (population 525,000) to consider is Fresno, located almost exactly in the center of California. It's even hotter than Bakersfield, also has air pollution issues, and it's three hours from the ocean, LA and San Francisco. In other words, it's a relatively-typical inland California city.
And living in Fresno has its advantages. The cost of living is more reasonable than in most of the state's other cities, the economy is growing, there's a lot to do with museums, trails, parks, concerts, festivals and a water park, and Sequoia National Park is only about an hour away. It's a very good food town as well, particularly because of the region's fabulous produce. Schools are decent and CalState Fresno ensures there's some GenX activity.
The median price of a house in Fresno is $340,000, and while home prices there are increasing about 13% per year, that's not as steep as in most California cities. If you want suburban living close to Fresno, Clovis is a great choice but median home prices there have recently reached $450,000.
7. Livingston, California
Let's move from a large city with a lot to do, to a small town where the annual highlight is the Sweet Potato Festival. Livingston's population of 14,000 enjoys a slower-paced lifestyle, befitting an agricultural area that has been described as "halfway between the cities of Merced and Turlock." (Modesto is 30 minutes away, Fresno is an hour, and it's two hours to San Francisco.)
Summers are hot, winters are seasonable, and life is quiet as you'd expect in what's largely a farming town. You can find hiking and skiing relatively nearby, and the larger cities in the vicinity provide more dining and entertainment options than you'll find in Livingston itself. The schools, however, are nothing to write home about.
A home in Livingston isn't cheap by national standards, but is cheaper than average in California. The median home price is a shade under $400,000, which is 15% higher than it was at this time last year.
8. Eureka, California
You had your heart set on moving to California so you could live near the ocean? Welcome to Eureka, although it might not be exactly the city you were dreaming of. It's located on the coast of Northern California, between the Oregon border (two hours away) and San Francisco (four hours away).
Eureka is primarily known for its harbor and its Old Town neighborhood, full of Victorian homes. It's also close to the Humboldt Redwoods State Forest where you can marvel at the 1,000 year old trees you've only seen in social studies books, or wander the forest's 100 miles of trails. The city is pretty and the climate is temperate and comfortable, but Eureka is dealing with crime and homelessness issues, and city services aren't great.
Homes in Eureka now sell for a median price of just under $400,000, although the housing stock isn't plentiful and much of it is rented out.
9. Stockton, California
Head east from San Francisco, and about 90 minutes later you'll come to Stockton. A cynic might say that the best thing you can say about Stockton is that it's only 83 miles from the Bay, but that's not totally fair. There are lots of museums, walking trails, festivals, minor league sports and other entertainment options in the city and in nearby communities like Lodi, and while it gets very hot in the summer, the winters are pleasant.
However, Stockton has had its challenges. It's been known as a "boom or bust" city; it was hit hard during the Great Recession, and in 2012 it became the largest city in history to file for bankruptcy (it emerged in better financial health three years later). It still has crime problems and has hit a few "worst cities to live in" lists. As with many cities that have seen troubled days, pick your neighborhood carefully.
When you do, you'll find median housing prices right at the $400,000 mark, up nearly 20% over a year ago. That's partly a reflection of the soaring California real estate market, and partly a sign that many people believe the quality of life in Stockton is improving.
10. Yuba City
We'll close with an inland Northern California city that's near the edge of the Tahoe National Forest. (You have to cross the forest to get to Lake Tahoe, about two and a half hours away; San Francisco is two and a half hours in the opposite direction.)
Even though Yuba City has a population of almost 70,000, it has a small-town, agricultural feel. There's not much in the way of entertainment in the city, but hiking and boating aren't far away, and skiing is a a fun day trip in the winter. Temperatures are normal for an inland city, with very hot summers, and winters that are considered cold in California.
Median home prices are right around $410,000 in Yuba City, increasing about 15% per year.