Rich people love vacationing in Colorado.
And why wouldn't they? There's the skiing, fabulous scenery, and incredible dining and upscale shopping in Aspen and Vail. There's skiing, fabulous scenery, and a terrific "hippie" vibe in Telluride. There's the skiing and fabulous summer scenery in Crested Butte, known as the wildflower capital of the state.
Oh, and did we mention the skiing and fabulous scenery?
There's great news, though. You don't have to be rich to visit Colorado. And you don't have to be rich to live there, either. Sure, Denver is pricey; its homes are the 11th most expensive in the nation and its rents rank ninth in America. Boulder probably wouldn't be a good choice for relocation either, with a median home price topping a million dollars. And Colorado has been ranked by U.S. News and World Reports as one of the nation's most expensive states to live in, largely because of high housing prices.
But you don't need a high paying job or a winning lottery ticket to move to Colorado and enjoy the state's unparalleled outdoor activities like skiing, snowboarding, hiking, kayaking and fishing; its stunning natural beauty and healthy lifestyles; or its strong economic growth and lower taxes. (And we haven't even mentioned legal weed.)
Colorado homes are within reach of most families' budgets. You just have to know where to look.
Where are the cheapest places to live in Colorado, you ask?
1. Lamar, Colorado
Here's the not-so-great news. Lamar is in the far eastern part of the state, just 30 miles from the Kansas border in the area known as the High Great Plains. So it's six hours away from the famed peaks of Vail or Aspen, and it's three hours from Denver and Pueblo. Great ski areas are a few hours away.
Even so, it's a wonderful small, historic town and perfect for nature lovers. Lamar's parks, wildlife areas and hiking trails make it easy to enjoy the area's scenery – and its birds. This town of about 8,000 is known as the state's top birding destination, and attracts tourists to its High Plains Snow Goose Festival each year to watch the migration of the majestic geese. Hunting is also a popular pastime, and there's a great golf course.
So, why Lamar? The median home price in this picturesque town is just $154,500, the schools and other facilities are high-quality, and it's been ranked the fourth-safest community in Colarado. It's ideal for those looking for a slower-paced lifestyle and a great place to settle down.
2. Trinidad, Colorado
Moving south, we find the picturesque town of Trinidad near the New Mexico border, also about three hours from Denver (and four hours from Albuquerque). There's an eclectic downtown with Victorian architecture, streets paved in brick, and a Western feel. Two state parks provide miles of hiking trails and terrific fishing and camping during the summer months. Once again, this is not a skiing destination, but the Wolf Creek ski area is about three hours away.
The median price of a home in Trinidad is $210,000. Real estate values are increasing about 10% per year, so buying a house in this town of 8,000 could also be a smart investment.
3. Sterling, Colorado
Let's head north, toward the Nebraska border. That's where we find the farming and ranching town of Sterling, with a population of 14,500 and deep roots in the culture of the Colorado prairie. There's a historic and very cool downtown, an active arts community, and year-round festivals and fairs. Denver is a two hour drive away.
This is another perfect town for those who are seeking a spacious area in which they can enjoy an active Colorado lifestyle. Hiking, fishing, shooting, biking, golf, birding and skywatching are among the many pastimes popular in Sterling, and there are ski areas 2-3 hours away.
Homes in Sterling are quite affordable, with the median price around $225,000.
4. Brush! Colorado
That's not a typo. This city was originally named Brush, after an original gold miner, cattleman and local politician, but officials added the exclamation point in 1978 to symbolize their city's "can do attitude" during an economic downturn.
Brush! is located about half-an-hour south of Sterling, and about 90 miles from Fort Collins and Denver. There are many outdoor recreational spots nearby, including five different wildlife areas and a large state park, providing ample opportunities for fishing, hiking, boating and biking. The big event of the year is the annual rodeo over the July 4th weekend.
Homes in Brush! sell for a median value of $250,000, trending up about 6% per year. It's another quiet, quaint, beautiful area in which to settle.
5. Federal Heights, Colorado
Those who crave city life at an affordable price should look into Federal Heights. It's a very small city (population 15,000) with a very big water park (one of America's largest) and lots of skiing and winter sports within an easy drive.
Most importantly, though, it's less than a half-hour from Denver. That gives residents access to all of the concerts, museums, sports events and nightlife that you'll find in a big city – but a small community to go home to. In fact, Federal Heights is a favorite suburb for many who work in Denver and commute to the office each day.
You'd better buy quickly, though. Right now, the median price for a home in Federal Heights is $280,000, but that's up 40% over the last year. It's easy to understand why.
6. Cañon City, Colorado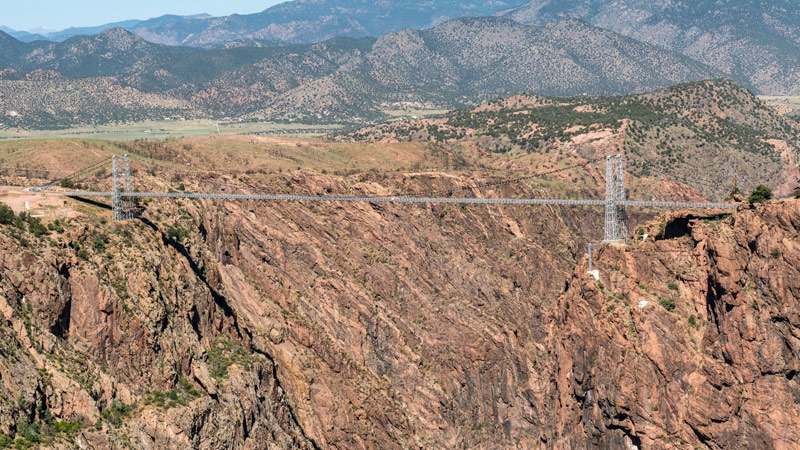 About two hours south of Denver toward New Mexico you'll find Cañon City, home of the country's highest suspension bridge. Of course, that's not a reason to move there, but the exciting rafting in the Arkansas River below might be. The plentiful hiking and mountain biking trails, fishing, antiquing and farmer's markets, not to mention great skiing an hour away, are other reasons why Cañon City draws tourists and homebuyers alike.
The other reason homebuyers are attracted to Cañon City? The prices, of course. The median price of a home is right around $290,000, not bad in a state where median prices have now crossed the $500,000 mark.
7. Dove Valley, Colorado
Another suburb of Denver also lands in our list of the cheapest places to live in Colorado. Dove Valley is 30 minutes southeast of the city, and has been chosen as one of the best places to raise a family in the state.
Naturally, a short drive lets you access all the amenities of the 19th largest city in America. But a short drive also takes you to Cherry Creek State Park, with a fabulous beach and plentiful boating, fishing and camping. Prefer winter sports? The terrific Loveland Ski Area, with more than 100 trails for skiing and snowboarding, is only about an hour away.
A home in Dove Valley is definitely affordable for any area with that sort of proximity to both city and leisure play. Median house prices are around $360,000. But as in any metropolitan area, they're going up fast, increasing by 16% per year.
8. Fountain, Colorado
If you prefer your nearby cities smaller, and a skyline filled with more mountains than skyscrapers, Fountain could be the affordable community for you. It's at the foot of Pike's Peak (the inspiration for "America the Beautiful"), and only ten minutes from Colorado Springs, the second-largest city in the state. That makes concerts, fine dining, craft breweries, museums and universities, professional soccer and the Olympic Training Center easily available.
Fountain, though, has more of a combination urban/country feeling, with wonderful parks, camping and hiking even closer than Colorado Springs. The climate in Fountain is relatively mild, but great ski areas are just a day trip away,
The median home price in Colorado Springs is over $410,000 and rising, but in Fountain, it's significantly lower at $370,000. That's a 15% increase in the last year, though, so now is the time to buy.
9. Fruita/Grand Junction, Colorado
Fruita is on the western slopes of the Rockies in Western Colorado, just west of Grand Junction and near the Utah border. (The town's name comes from the Palisades Peaches grown in the area.) It has a deserved reputation as an outdoor paradise, with mountain bikers and white water rafters flocking to the area during the warmer months. And the sensational Powderhorn Mountain Resort is only 45 minutes away for skiing and snowboarding in winter.
There's a lot more to do in and around Fruita, too. There's plentiful fishing and hiking, a real-life dinosaur trail with preserved fossils, an artsy downtown, a relatively mild climate – and breathtaking scenery.
Houses in Fruita are still much lower than in most other parts of Colorado, with a median home price of $380,000. Prices are even lower in Grand Junction, at a median of $372,000, but the atmosphere in Fruita is less crowded and more comfortable, with less crime.
10. Milliken, Colorado
This is a tiny, peaceful town that's located in a growing, upscale region of Colorado. It's near Fort Collins, Loveland and Windsor, with all of the amenities they provide easily accessible, yet it's the cheapest place to live in this part of Colorado.
The feeling here is more rural than upscale, with lots of open space, nice parks, and lakes, yet it's just an hour from Denver and 30 minutes from Fort Collins. Rocky Mountains National Park is an hour to the west, with more than 100 peaks rising as high as 11,000 feet (although to enjoy skiing and snowboarding, you'll have to take a 2-3 hour trip).
You may have to cross the $400,000 barrier to buy a house in Milliken, as the median home price is now $416,000. Even so, that's $150,000 or more less than homes cost in neighboring towns like Windsor, and there's no doubt that the value of your Milliken property will increase in the coming years.