Is it a good time to buy a house?
No one can really answer that question – unless they can also tell the future.
Analysts have said that the best time in the last 100 years to buy a home was right after World War II – but as the nation was shaking off years of war trauma in 1946 and 1947, no one knew that houses would never be more affordable. (If you're wondering, the average home cost $5,510 in 1946, about $70,000 in today's dollars. Oh – and interest rates were well below 1%.)
Home prices hit temporary lows in the late 1970s, but mortgage rates were above 11% (and eventually hit 18%). The price of a home was at another temporary low in the mid 90s, but mortgage rates were above 8%. If you could afford to buy when mortgages were that expensive, you ended up making a terrific investment. But you couldn't have realized that at the time.
In short, we won't know for years whether now is really a good time to buy a house.
If you want some hints, experts' predictions on the real estate market might help. If you're simply looking for a good deal, finding the cheapest states to buy a house could help even more.
Let's look at both.
Should You Buy Now – Or Should You Wait?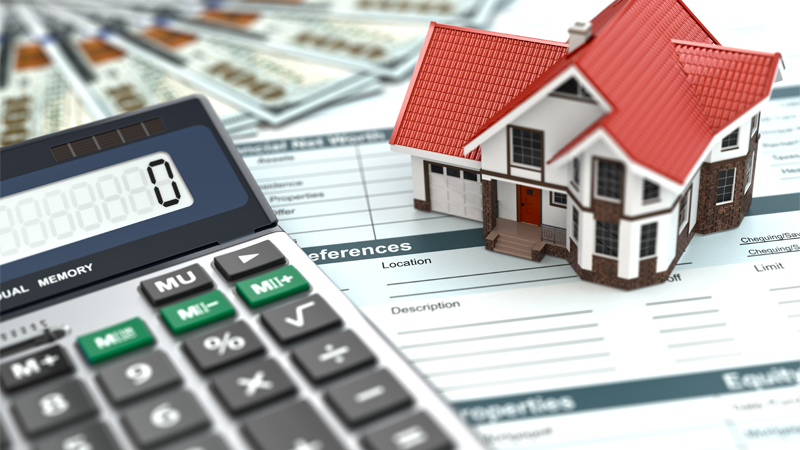 It's been a crazy time in the housing market.
Median home prices spiked during the height of Covid. They increased nearly 20% nationwide and even more in red-hot states like New York and California, according to experts at realtor.com and other authoritative real estate sources.
There are signs that prices are starting to come down a bit. There's also been a surge in demand for houses, though, as millions of millennials and Gen Xers get ready to settle down. In short, no one knows what's in the future for the housing market. Experts predict that even if prices do come down substantially, they won't reach pre-pandemic levels.
Mortgage interest rates have been fluctuating a bit but still remain quite low, at least in historical terms. The difference paying 3% and 4% on your mortgage matters, of course, but those rates are a far cry from the five and six percent rates people were paying as recently as 2014, And there's no real comparison with the 8% that banks were charging at the start of the 2000s. Experts say rates may hit or even top 4% during 2022. But they've made that prediction before and been wrong.
That's a long way of saying that it's impossible to "time" your home purchase.
If you look at history, though, it's probably fair to say that home prices probably won't fall very far, and will recover whatever short-term losses they may suffer. On the other hand, interest rates will eventually go up. Will it be soon? No one knows except the Federal Reserve Board, and they're not saying.
It certainly does seem, however, that this is a good time to buy. A decade from now, you might look at the numbers and think "I should have waited six months" or "I should have bought six months earlier." But low interest rates, and home prices that may continue to increase because of demand, make it tempting to pull the trigger sooner rather than later.
That's not all you should consider, though.
The most important question to ask is: "Is this the right time for me to buy a home?" Owning a house is still one of the smartest investments you can make; the sooner you purchase, the sooner you'll begin building equity instead of paying rent. If your personal situation makes living in your own home attractive (or necessary), and you can afford to buy now – that probably means it's the right time to buy.
Bottom Line: It's impossible to time the purchase of a home, since the housing market and interest rates are unpredictable. It appears that home prices may drop a little bit in the near future, and that interest rates may rise a bit. But even experts aren't sure. What's more important is whether your financial and personal situations make you ready to buy and able to afford a house, because history has shown that buying is always a smarter long-term decision than renting.
Cheapest States To Buy A House
If your name is Bezos or Musk, or if you've just cashed a winning Powerball ticket, you can buy a home anywhere you'd like.
If you're a high-income earner, you may be able to live in Beverly Hills (median home price: $5.5 million), San Francisco ($1.85 million) or New York City ($1.3 million) without losing any sleep over your mortgage payments.
The rest of us have to be more judicious when spending our housing budget.
Where will you find the best deals for your housing budget? Naturally, it will be in states where homes cost less.
Let's go house hunting in the cheapest states to buy a house.
1. West Virginia
The median home price in West Virginia is $118,500, the lowest in the nation. (The national median home price, by comparison, is more than $350,000.) However, as you read all of these listings, remember that real estate values vary widely within each state. Here's an example. In the downtrodden city of Welch, the median home price is $66,000. In Morgantown, the home of West Virginia University, it's $249,000. We don't have to tell you, but we will: quality of life matters.
Not only does West Virginia have fabulous hiking and fishing, gorgeous scenery and a low cost of living, but most parts of the state are only a few hours from cities in Virginia, Maryland, Pennsylvania or Ohio. In fact, many who work in Virginia, Maryland and Washington D.C. commute from Eastern West Virginia because of the lower housing prices.
2. Mississippi
Mississippi is another affordable place to look for a house. The median home price in the state is $144,000, but there's a huge difference between communities like Madison (just north of Jackson) at $320,000, and Clarksdale (on the Mississippi river, near Arkansas) at $64,000.
If southern hospitality, comfort food and mild winters aren't enough to convince you to consider the Magnolia state, the cost of living is one of the lowest in America. Life in Mississippi is generally quiet, since there are only about three million residents in the entire state. And if you want excitement, Memphis, New Orleans, or the casinos on the Gulf of Mexico aren't that far away, depending where in Mississippi you live.
3. Arkansas
Right next door to the west, Arkansas offers a large selection of houses at more-than-reasonable prices. The median home price is $149,100; in Bentonville (a beautiful suburban town that's also the home of Walmart) it's $429,000, while in Blytheville (a small, sleepy town about an hour from Memphis) it's $76,450.
There's typical southern weather in Arkansas, hot in summer and usually not too cold in winter. Those who love outdoor sports and leisure activities will find almost everything they'd want in the state, from hunting and fishing to boating, cycling and hiking. The bulk of the state exemplifies small-town living, but Little Rock offers much of what you'd find in a larger city, and Fayetteville and Jonesboro are cool college towns. The cost of living is low, too.
4. Oklahoma
Oklahoma has a number of suburbs where houses are somewhat expensive, like Edmond (just north of Oklahoma City) where the median price is $329,900. It also has much-less expensive places to live like Blackwell (just south of the Kansas border) where the median home price is right around $50,000. The median price for the entire state is $155,000, making Oklahoma one of the cheapest states to buy a house.
Older readers may think of Oklahoma as "where the wind comes sweepin' down the plains." (It's from an old musical.) It's true, there are plenty of rolling plains in the state – but there's also Oklahoma City (the "biggest small town in the world") and Tulsa, both friendly cities with lots of amenities and entertainment options, and relatively-uncrowded rush hours. And even the state's smaller and more remote towns' proximity to lakes and rivers means there's plenty to do outdoors, at least when weather conditions are favorable; it can get extremely hot in summer, and very cold in the winter. A final bonus: the cost of living and taxes are among the lowest in America.
5. Iowa
Let's move to the middle of the country, where Iowa will let you vote in the first-in-the-nation presidential primaries from the affordable home you've just purchased. The median home price in the state is $168,000, but much higher ($359,900) in the Des Moines suburb of Johnston, and much lower ($118,500) in the town of Clarinda near the Nebraska-Kansas border.
No, Iowa isn't as flat as you might think; it actually has lots of hills. But you're right to imagine that there are lots of farms and small-town festivals, at least until you get to friendly cities like Des Moines, Dubuque, Davenport or Cedar Rapids. They're not big-city crowded, but they have lots of restaurants, schools and entertainment options to choose from, and most areas of Iowa are only a few hours away from at least one of them. Just be prepared for the weather which can be hot and humid, or frigid and snowy, with blizzards or tornadoes as extra bonuses from time to time.
6. Kentucky
You can easily buy a house in the Bluegrass State for less than half of the nation's median home price, since the median price in Kentucky stands at $172,400. As always, we'll point out that you can find communities like Union, KY with much more expensive homes ($387,500 median price), and those like Central City with much cheaper ones ($116,000). Union is 20 minutes from Cincinnati; Central City isn't near much of anything. (To be fair, it's an hour away from Bowling Green.)
Kentucky may have seemed like a pretty large state when you were making maps in school, but it's really the 14th smallest state in the nation. That means no matter where you live in Kentucky, you're not too far from Louisville, Cincinnati, Nashville or St. Louis if you crave a big city fix. The state's climate is relatively moderate, making it great for outdoor activities and farming (not just tobacco and horse farming, either). The cost of living is pretty low, as are taxes, the food is good, and the people are friendly.
7. Alabama
More often than not, news stories about Alabama focus on the state's low rankings in categories like education, health care and crime. They're all valid concerns, but they create the impression that Alabama is a poor state with not much to offer. That couldn't be further from the truth.
For starters, homes in Alabama are increasing in value, an average of 13.7% in just the last year. The median home price there is $175,000, and while you can find very cheap homes in the rural town of Attalla ($124,900), the median price of a house in Orange Beach (a lovely community on the Gulf Coast) is $589,900.
That gives you a good idea of the dichotomy that is Alabama. There are plenty of rural areas where the biggest draws might be the close-knit communities, the low cost of living, the usually-pleasant weather and bountiful outdoor sports and activities. On the other hand, cities like Huntsville, Birmingham and Montgomery provide a faster pace of life, a more diverse group of leisure activities. And naturally, there's always Alabama and Auburn football.
8. Kansas
Let's head back to the nation's heartland, where Kansas has a huge inventory of inexpensive houses for sale. The state's median home price is $181,000, but there are a number of suburbs where houses are much pricier; in the Leawood, KS suburb of Kansas City, the median home price is $572,500. On the other end of the spectrum, the median price is just $60,000 in Parsons, KS, near the Oklahoma-Missouri border. Yes, you read that right.
While we're talking about the heartland, we should mention that Kansas is just one of the states that's flatter than Iowa. That's great for growing the state's famed corn and wheat crops, although it makes for scenery that's very different from what many from other parts of the country are used to (although sunsets are gorgeous). The cost of living is low throughout Kansas, whether you're in rural areas or metropolitan ones like Kansas City, Wichita or Topeka. Just be prepared for humid summers and cold winters with some snow, plus occasional tornadoes. It's OK – the terrific barbeque make up for the inconvenience.
9. Ohio
If you're surprised to see Ohio on this list, don't be. It's a diverse state, with lots of rural areas to balance big cities like Cleveland and Cincinnati. The median home price in Ohio is just $186,000, but don't expect to find a house for that price range in tony suburbs of Cincinnati like the Village of Indian Hill (median price: $1.4 million). Bargain hunters should focus on places like Belleview (median price: $110,000), an hour from Toledo and near Lake Erie.
Sure, there are a few big cities in Ohio, but if you've ever driven through the state, you know that there are lots and lots of smaller towns between them. Those areas have lots of farms and hills, a slower-paced lifestyle, and enjoyable community-based and outdoor activities. Except in the winters, that is, which can be quite harsh. There's middle ground as well, with medium-sized cities that are more industrial and not as pleasant. The cost of living is surprisingly low, even in the cities. To sum up, Ohio is a microcosm of most of America.
10. Indiana
Indiana is another diverse Midwestern state. Many northwestern communities are exurbs of Chicago, Indianapolis is a major city, and Louisville and Cincinnati are close to the southeastern part of the state. Much of the rest of Indiana, though, is rural. That's why the state's median home price is $191,000, but in the Indianapolis suburb of Zionsville, it's $499,900. On the cheaper side, it's $120,000 in Huntington (south of Fort Wayne, and somewhat fittingly, home of the Dan Quayle Vice Presidential Learning Center).
Indiana has a climate typical of the Midwest: very harsh winters, and hot and humid summers. The proximity of much of the state to big cities is attractive to some residents, while those in the north are drawn to the swimming and boating (and casinos) available on the shores of Lake Michigan. Homebodies, on the other hand, enjoy the family-friendly small town life and activities common in most of the state. Sports and outdoor pastimes are big, and the cost of living is relatively low.