It's always a pleasant surprise when a business is completely upfront with its ads and marketing slogans.
Honesty in advertising usually means that you don't have to waste time figuring out exactly what the business does, or what market its products are aimed at.
"We Buy Ugly Houses" immediately comes to mind. You've probably seen this company's signs on the side of the road or stapled to a utility pole. Their ads may also have popped up in your browser over and over again.
(And yes, "We Buy Ugly Houses" is a real company. It's not a scam, nor is it a husband-and-wife team who decided to get into house flipping after watching HGTV for a month.)
Their advertising message is simple and easy to understand: if you want to sell your house and it's not in great shape, they're still willing to buy it – quickly, and for cash.
There's one important detail they don't mention though: how much do they pay for those ugly houses? 90% of market value? 80%? 60%? Even less?
Anyone who calls the phone number, or clicks on the ad, certainly understands that "We Buy Ugly Houses" won't be offering the going market rate. And it's reasonable to assume their offer won't be for a home's market value, less the cost of repairs.
Here's the reality: this company's offers come in far below the number you might expect.
Is "We Buy Ugly Houses" the right approach for you? Are they the only cash buyer you can find? (Spoilers: probably not, and no.)
You have questions. We have answers.
What Is "We Buy Ugly Houses?"
It's actually a real estate brand owned a company called HomeVestors; their primary business is selling "We Buy Ugly Houses" franchises. The people who post those ubiquitous roadside signs and flyers are franchisees, paying for the right to use the "Ugly Houses" brand, business model and methods in a specific geographic region.
So even though the people running "We Buy Ugly Houses" franchises have been trained by the parent company, they operate independently. Client service – and the offer you receive for your home – will depend on the people running the franchise in your area.
"We Buy Ugly Houses" operates in almost every state, with multiple franchises in large cities or counties – and needless to say, some franchisees are easier for sellers to work with. The general process is the same everywhere, but home sellers in Boston and New York, or in Los Angeles and San Diego, may have very different experiences even though they only live a few hundred miles apart.
Bottom line: This company sells geographic franchises. You deal directly with the franchise owner in your area, and some franchises may be more difficult to deal with than others. You should only pay attention to "We Buy Ugly Houses" reviews posted by people who live in the same area that you do.
Incidentally, not all companies offering quick cash for homes work this way. For example, a company called SellYourHome.com is a national operation, so the experience is the same wherever you live. (They're also more likely to offer more money than "Ugly Houses," and close the sale in just a few days rather than a few weeks, but that's a story for another article.)
The "We Buy Ugly Houses" Business Model
"We Buy Ugly Houses" casts a wide advertising net. Millions of people drive by their signs or see their online ads, but only a small percentage is ready to sell their house.
And the brand name actually works well to filter prospects. It delivers a clear subliminal message: "We buy houses that are going to be difficult to sell, because they're in poor shape." The subtext is clear as well: "We both know you're going to lose money when you finally sell your subpar home – so we'll make a low offer that will let you get of your house as soon as possible."
Those whose homes are in good condition, or those who have the money and time needed to make pre-sale repairs, aren't likely to respond to a solicitation for "ugly houses." They know they have a "nice house." And if they're ready to sell, they know they'll probably receive offers for the home's real market value once they've fixed it up.
That leaves the prospects that "We Buy Ugly Houses" really wants: distressed owners who need to sell their house in a hurry, aren't looking for top dollar, and simply want to close quickly without a long, protracted sales process.
Who might fall into that category?
Homeowners going through a difficult divorce or family crisis.
Homeowners who need to relocate immediately because of illness or a job change.
Homeowners who've inherited a house in poor condition and just want someone to take it off their hands.
Those people all need to sell their homes quickly, and they may be willing to take a big loss on the house in order to do it.
That's the perfect prospect for "We Buy Ugly Houses." They'll make an immediate below-market cash offer, then quickly renovate and flip the home for a tidy profit.
Bottom Line: "We Buy Ugly Houses" is only interested in distressed properties, because their owners are more likely to accept lowball offers. Those who aren't focused on selling price because they need to move in a hurry or get a property off their hands, may find the relatively-fast and easy cash transaction an acceptable tradeoff for the low offer. Those whose property isn't "ugly" can do much better.
How "We Buy Ugly Houses" Works
This company's process really is as simple as it sounds.
A prospective seller calls "We Buy Ugly Houses" with the basic details of their home.
The company does an in-person inspection within a day or two, and makes an immediate cash offer.
If the seller accepts the offer, the two parties sign a purchase and sale agreement.
The sale closes in 14-30 days, and payment is in cash.
That can be extremely attractive to the types of distressed sellers we've mentioned. No requests for repairs, no negotiations, no muss, no fuss. Just a fast sale for cash.
The only obstacle, of course, may be the size of the offer.
Bottom Line: "We Buy Ugly Houses" makes a cash offer in as little as 24 hours and can close the deal in as few as 14 days, with just one inspection before the offer is made.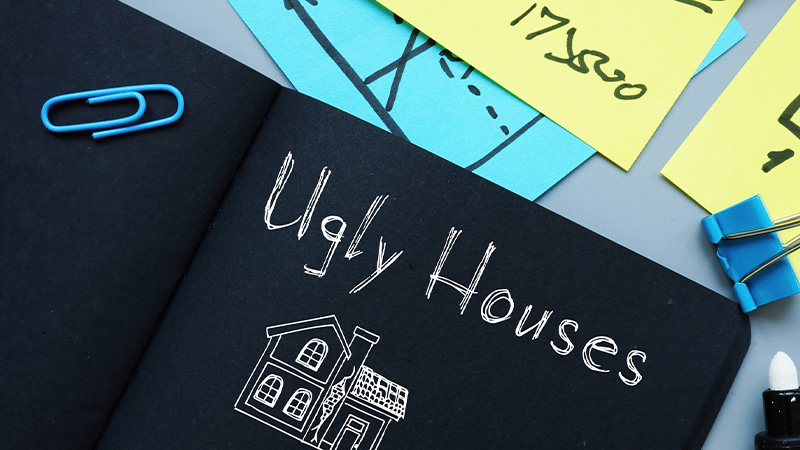 How Much Does "We Buy Ugly Houses" Pay for Homes?
They pay a lot less than the house might be worth once it's been fixed up.
That's the easy answer. Here's the more complicated one.
Since every "We Buy Ugly Houses" franchise operates independently, there's no universal number or percentage that they will pay for a home. Their offer depends on the cost of repairs needed to make the house salable, market conditions, and the mindset and policies of the individual franchise owner.
Quite honestly, that last factor may be the most important. There are reports in some cities that the local "We Buy Ugly Houses" franchise tries to get away with offering 50% or 60% of the home's true market value. More often, the offer is determined by the "70% rule" that most house flippers use.
Here's how that works.
Someone buying a distressed house, with the intent of reselling it, has to make sure that they'll eventually make a decent profit. They have a good idea of what the home will sell for once it's been fixed up (the "after repair value," or ARV), and they know how much they'll have to spend in repair costs. That allows them to use a simple formula:
(ARV x 70%) – repair costs = offer price
This calculation ensures that the buyer ends up with 30% of the proceeds once the house is resold. Some of that money goes toward operating costs like title or property inspections, closing costs and lender's fees; the rest is profit.
Let's look at a few examples of how that would work in real life. Assume that "We Buy Ugly Houses" makes an offer for your home based on the 70% rule, and repair costs average 10% of the ARV.
After Repair Value         ARV x 70%         Estimated Repair Costs       Offer Price
$200,000                  $140,000                     $20,000                        $120,000
$300,000                  $210,000                      $30,000                        $180,000
$500,000                  $350,000                      $50,000                        $300,000
That's why an offer from "We Buy Ugly Houses" might shock some prospective sellers. If homes in their neighborhood are selling for $300,000 and they're offered $180,000, ordinary sellers could easily feel offended.
If they did the $30,000 in repairs on their own, they might expect to net about $270,000 from the sale. That's nearly $100,000 more than "We Buy Ugly Houses" is offering.
(One important note, though: sellers don't have to pay realtor commissions or closing costs when using "Ugly Houses." That can be a savings of $25,000 or more. So the more realistic comparison is $245,000 for a traditional sale vs. the $180,000 offer from "We Buy Ugly Houses." It's still a huge difference.)
Why would anyone accept the lowball offer?
Repairs and the normal home-selling process would cost a lot of money and take months. If the seller doesn't have $30,000 for repairs, doesn't have anywhere to live while repairs are being made, has to move as soon as possible, or just wants to get rid of the property – they might be willing to take the quick cash. And that's exactly the type of seller that "We Buy Ugly Houses" is designed for.
Bottom Line: Offers from "We Buy Ugly Houses" will always be low, sometimes shockingly low. An offer will normally be tens of thousands of dollars lower than the price a homeowner could get by repairing their home and selling it through a traditional realtor. Those without financial or time constraints will likely find the company's cash offer unacceptable. Those who are under pressure to sell, though, may believe that it's worth taking the loss.
Potential Problems with "We Buy Ugly Houses"
We don't consider this company's extremely low offers a "problem" in and of itself. By definition, you'll receive a very low offer in return for a quick sale and quick cash when you use "We Buy Ugly Houses." As a cynic might say, low offers are a feature, not a bug.
That doesn't mean that an "Ugly Houses" deal can't go sideways in a hurry. There are several red flags to watch for.
The most important is whether the franchisee can supply positive references and has good reviews online. Remember, each of the "We Buy Ugly Houses" franchises is independent; the brand name doesn't mean much by itself, if one of the operators goes rogue. That's actually happened in the past.
The owner of a Colorado "Ugly Houses" franchise used the business as a front for a fraudulent fix-and-flip scene that cost investors nearly $15 million. She ended up going to prison, but home owners who'd accepted an offer for their house were stuck in the middle once the feds moved in.
There are other ways unscrupulous home flippers can cause problems for a seller. For example, some cash buyers try to flip contracts instead of houses. They'll get a home seller to sign a contract, and then immediately start looking for someone else to buy the contract from them for a quick profit. If they can't find a buyer – and don't have the money to pay the home seller – the deal can be stuck in limbo.
And of course, some people simply aren't honest or honorable. If they get their hands on a "We Buy Ugly Houses" franchise, they may lie about a home's value, cheat on a contract, or do other things to make the home selling process a nightmare – with no recourse available from the parent company.
Bottom Line: Almost all "We Buy Ugly Houses" franchisees are honest businesspeople, and will deliver on their commitments. There's no guarantee, though, so it's crucial to check out your local "Ugly Houses" operation carefully before making any commitments. If any alarm bells sound after looking at Better Business Bureau reports, references from previous clients and online reviews, it's best to walk away before agreeing to sell your home.
We Buy Ugly Houses: The Summary
"We Buy Ugly Houses" can provide a valuable service to distressed or desperate homeowners who are willing to take a big loss on their home's value in order to get quick cash or move out quickly.
That loss will usually add up to tens of thousands of dollars, though, so this company is not a realistic option for sellers who are able to make their own repairs and market their home through a realtor or via other more traditional methods.
It's important to carefully check out the "We Buy Ugly Houses" franchisee in your area before accepting an offer. Each local franchise is run independently, and the selling experience can vary widely in different regions of the country.
There are similar services like SellYourHome.com which are administered nationally, able to close deals faster, and known to offer higher prices than "We Buy Ugly Houses." And some local realtors may be willing to work with you to facilitate necessary repairs in return for their commission on the deal. Always check all of the alternatives before committing to a sale.
We Buy Ugly Houses: FAQ
Q: How much money do you lose using "We Buy Ugly Houses?"
A: It's impossible to say. You'll definitely be offered much less than if you had fixed up your house and sold it by traditional means, but the difference can vary by market conditions, the condition of your house and the way your local "We Buy Ugly Houses" franchisee operates. It will definitely be in the tens of thousands of dollars, but some people are willing to take the loss in order to sell their home immediately.
Q: Will "We Buy Ugly Houses" negotiate after making an offer?
A: Some franchisees will, most won't. Either way, you'll still end up with what most people would consider a lowball offer.
Q: Can I cancel an agreement to sell if someone makes me a better offer?
A: Once you sign a contract with "We Buy Ugly Houses" it's binding and legally-enforceable, except for any "out clauses" the contract might contain. And since there will only be a few days, at most, between receiving an offer and signing the contract, there's not much chance of receiving a competing offer from somewhere else.
Q: Will "We Buy Ugly Houses" give me time to shop an offer to see if I can get a better deal?
A: Not usually, no. Nothing prevents you from rushing to do that behind their backs once you've received their offer, but their business model isn't built to compete with other potential buyers.
Q: Does "We Buy Ugly Houses" make the best cash offers?
A: Each case is different, but other cash buyers like SellYourHome.com have been known to be more generous with offers, and move more quickly on both offers and closings.