There's been a revolution in the real estate industry in recent years.
It's been led by a group of tech innovators. They've combined computer algorithms and the power of the Internet, to offer new options to those buying and selling houses.
Many of those options benefit homeowners, who can now choose from a number of alternatives to the traditional system of 6% realtor commissions (3% to the buyer's agent, 3% to the seller's agent). For example, there are discount brokers who sell houses for a lower commission, and there are several types of buyers willing to purchase homes for fast cash.
Orchard (previously called Perch) is another company that's popped up during this wave of innovation, providing homeowners with a different alternative. Essentially, Orchard markets its service as a way that sellers can buy a new house – before they've sold their old one and received the proceeds for it.
Let's take a deeper dive into the way Orchard works, and whether they're trustworthy or a scam.
Where Did Orchard Come From?
The company known as Perch was launched in 2017. It had a stated goal of bringing the dual processes of selling and buying houses "under one roof," to benefit people that the real estate agency calls "dual trackers."
In other words, most people selling their home purchase a new one immediately after the sale goes through. That can put them in a bind; they're likely to need the payout from their old house in order to make a down payment and get a mortgage for the new one. Perch/Orchard was designed to let them accomplish both goals smoothly and seamlessly.
Texas tech entrepreneur Court Cunningham founded the company, although it's headquartered in New York. To date, it's received more than $200 million in venture capital and debt funding, allowing it to grow and expand its service areas. After the last cash infusion, the company changed its name from Perch to Orchard.
Orchard is a reputable company, with no serious issues reported and enough financing to operate – at least in the short term. There are no guarantees in today's tech world, of course.
Bottom Line: Orchard has been operating since 2017, slowly growing its service area while attracting new investors. The company's primary service allows homeowners to buy a new home while they're still selling their old one, and it has been a reputable and trustworthy newcomer in the Internet real estate space.
How Orchard Works
Orchard offers several different real estate services, but their primary focus is on what they call "Move First." It's something like a more-complicated, but easier to pull off, bridge loan.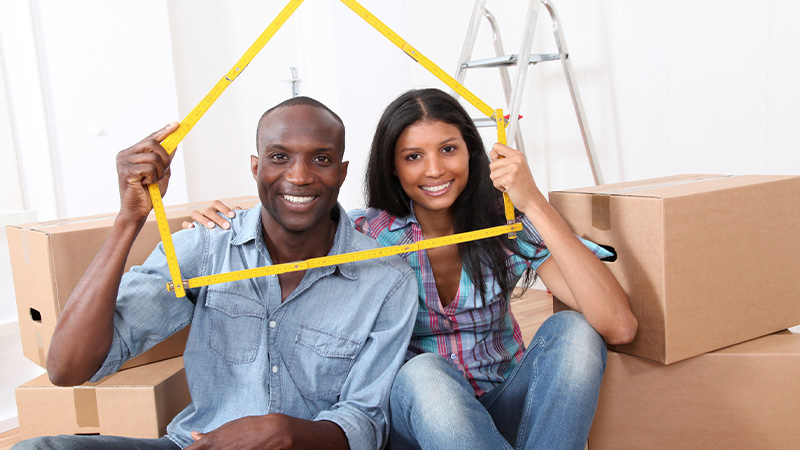 When you contact Orchard about the "Move First" service you'll be asked to submit basic information about your home, and take a company rep on a "guided" virtual tour. The information is then combined with publicly-available data and put into the company's computer algorithms, to calculate how much total equity there is in your home. Orchard considers both the amount of equity you've built up from paying your mortgage, and how much the house should be able to sell for, in computing that "total equity" number.
The company then offers up to 90% of that amount for your home, in a payout you can use to purchase a new house even before Orchard has sold the old one. But here's where things get a bit complicated.
After you've agreed to and taken the payout, the company does any necessary repairs, cleans up the house, puts it on the market, and tries to sell it traditionally for 90 days. If the house doesn't sell in that time frame, though, Orchard then takes ownership of the house for the amount they've advanced (minus another 1% fee). Looking at the transaction another way, the money they "advance" you is really what they're paying to purchase your home. If it happens to sell for more money than that through their real estate brokerage, the extra money is really just gravy.
Important: that doesn't mean you get the gravy. When the old house sells, there's a final closing. At that point, Orchard deducts the amount that they've spent on repairs, a 6% commission, and the mortgage payments they've made on your behalf after you've moved to the new house. You're still responsible for normal closing costs. And you've probably now realized that any additional money a buyer has paid for your old house can quickly be eaten up by all of those extra charges.
The company offers an add-on called "Offer Boost" for those using its Move First service. If you want to buy your new home with an all-cash offer – which can definitely help seal a deal in a hot market – Orchard will buy the new house for cash, and sell it to you once your old home has been sold. As you'd probably guess, there's a catch: if you don't wind up with enough cash after the closing to pay them the full amount, they'll "rent" the house to you for $30-$50 per day. That's $900-$1500 per month.
Is this messy process worth it? That's a decision only you can make. Those who've found their dream house, and can't bear to lose it because they haven't sold their current home, may find Orchard's "Move First" service can make that possible at a price that's worth paying.
Those who are using the service simply for its convenience, on the other hand, may find that they're losing more on the transaction(s) than they'd expected. Analysts who've looked at previous deals say that a homeowner can expect to receive 10-15% less for their home through Orchard than they'd get on the open market.
Orchard won't work with all homeowners. Your home must be a single-family home that's been built in the last 100 years, and it can't already be listed for sale. The company also has a limited service area; the homes it will consider must be located in Colorado (Denver), Georgia (Atlanta), Maryland (Montgomery County), North Carolina (Charlotte, Raleigh-Durham), Texas (Austin, Dallas-Fort Worth, Houston, San Antonio) or Northern Virginia.
Bottom Line: Orchard's "Move First" service is the centerpiece of the company's offerings. They'll let you buy a new house before selling your old one, by advancing you up to 90% of the equity in the old house. They then try to sell it, and if they can't, they buy it from you. However, there are a number of caveats and loopholes in the process that mean you're unlikely to receive a payout close to market value when all is said and done. "Move First" may make the most sense for people who've found a new, once-in-a-lifetime home and would do almost anything to ensure that they can buy it.
Other Orchard Real Estate Services
Orchard offers more traditional real estate services in addition. The company will list your home, as long as it meets the criteria we mentioned above, and sell it through its realtors for a standard 6% commission (covering the buyer's agent commission as well as their own). Orchard also has a "Buy and List" service, through which they handle the sale of your current house and your purchase of a new one through their realtors, for a lower commission rate of 4%.
And Orchard Home Loans can provide mortgage loans to clients in Texas, Georgia and Colorado, too. However, their loan origination fees can run substantially higher than the market average, as high as 3%.
Bottom Line: Orchard also offers more traditional realtor services, but the only savings to be realized come if you sell and buy through them at the same time.
Alternatives to Orchard
The concept that Orchard uses for its "Move First" service, sometimes called "home swap" or "trade in," is available from several other companies as well. Knock, for example, will also advance you the money needed to purchase a new home before they sell the old one for you.
On the positive side, Knock doesn't step in and buy your home as quickly as Orchard; they give it six months to sell on the open market first. They also operate in many more markets. On the negative side, they charge a 1.5% "convenience fee" for the entire transaction. If this type of home swap deal appeals to you, it would make sense to compare valuations and details before moving forward with either company.
Other approaches may work better for some homeowners.
The obvious one, obtaining a bridge loan, works for applicants with lots of assets and strong cash flow. That's important, because only those types of applicants will qualify for a second mortgage and a bridge payment while they still are carrying the mortgage on their old home.
Selling to an "iBuyer" like Zillow Offers or Opendoor is much less complicated than working with Orchard. iBuyers will make an cash offer to purchase your home within days, and will normally complete the sale within a few weeks. That then gives you a firm idea of how much cash you have to work when buying your next home. Of course, it also means that you can't move quickly to purchase a new house while you're still in the old one, and you'll have to find somewhere else to live while you're shopping for a new home. And you can expect to receive a much lower payout for your house than you'd get on the open market – and to pay a service fee that's at least as expensive as normal realtor commissions would be.
iBuyers will only purchase homes in good condition. If yours doesn't qualify, you might want to consider selling to a home flipper; the best known one, HomeVestors, operates under the "We Buy Ugly Houses" slogan you've probably seen advertised all over your town or city. Their payouts will be even lower than iBuyers', but there are no fees and you'll get your money quickly.
A final alternative is a so-called "new-age" home buyer like SellYourHome.com. There are no fees or commissions to pay, they can move from cash offer to closing on many homes in just days, and their offer will usually be much closer to market price than offers from home flippers. And once again, having fast cash-in-hand minimizes the amount of time between selling your old house and buying your new one.
Bottom Line: Other companies offer the same "home trade in" service as Orchard; there are pros and cons for each, so comparison shopping is the best idea. Other alternatives include bridge loans, or selling your home for fast cash so you can buy another house quickly.
Orchard: The Summary
Orchard provides a way for home sellers to purchase (and afford) a new house even before they sell their old one, as long as they live in the company's limited service area. Orchard advances up to 90% of the "equity" in a house, giving the owner money for a down payment on their next house and letting them qualify for a new mortgage. The company even has an add-on that allows the client to pay for the new house with an all-cash offer.
There are lots of complications, though. Orchard renovates the old house (and charges for the repairs), tries to sell the old house for 90 days, and then purchases it outright (for another fee) if it hasn't been sold. In theory, the homeowner gets the extra money after their old house sells, but in reality, they're on the hook for the repairs, the missed mortgage payments, and either the 6% realtor commission or the 1% buyer's fee – meaning they're likely to get much less for the house than they'd get if they sold on the open market.
Orchard can be a godsend if you've found your dream house and will do anything to get it before you've sold your old one. Otherwise, examine all of the details very carefully first, and caveat emptor.
Orchard Reviews: FAQ
Q: Isn't it a smart idea to be able to buy a new house with an advance on your old one?
A: Of course it is, and that's why many homeowners have used Orchard or its competitors. It's also why Orchard has been able to raise lots of capital from investors. However, there are a lot of pros-and-cons to consider. Orchard is often advancing hundreds of thousands of dollars for a "home swap," and it only makes sense that they'd do everything possible to safeguard their investment while ensuring that they make a profit. That creates a complicated process, which may not work to the financial advantage of the client.
Q: Is it smarter to use a service like Orchard or to get a bridge loan?
A: There are a lot fewer potential landmines if you take out a bridge loan – but many homeowners don't have the financial strength to qualify for yet another loan. In both cases you'll end up making two mortgage payments, but with Orchard you defer the payment on your old home until it sells. You have to make payments on the bridge loan if you go that route, but you could lose even more if your home sells for less than market or doesn't sell at all. If you're in a position to be able to choose between the two, add all the numbers and choose wisely.
Q: Is Orchard's "Offer Boost" an attractive option?
A: It could be, but remember, you're responsible for paying Orchard the entire cash amount they've paid to buy your new home. If your old home sells below market price, or doesn't sell at all, you could wind up holding a very big bag.
Q: Is there a good reason to sell my house for fast cash instead of using Orchard's service?
A: Yes, if you value "certainty" over convenience. You'll have to move twice if you sell for cash and then purchase a new home, but you'll know exactly how much you can spend on the new house. If you want to avoid living somewhere temporary while searching for a new home, Orchard could be the better option if it makes financial sense for you.