Before you get ready to sell your house, think back to when you bought it. More specifically, think back to when you were house hunting.
If you're like most people, you visited lots of homes. You probably walked into some of them and immediately thought "Eww, this one is off the list" or "Ugh, no way." Others looked enticing enough to warrant worth further investigation.
What made the houses different?  It wasn't their layouts, their renovated kitchens, or the number of bedrooms they had. You hadn't even gotten that far.
Your first impressions were based on visceral reactions to the look, smell and overall feel of the home. And that's not unusual. Studies have shown that 47% of people know whether they "like" a house right after they step inside – and that prospective buyers' first impressions are formed in the seven seconds immediately after they walk through the front door.
Of course, many factors affect whether a house sells quickly and for a good price. Selecting the right realtor, deciding on the right listing price, and selling the home when the market is hot will all have a major impact.
But many "smaller" details play an oversized role. They're largely responsible for creating the potential buyers' first impressions – and sellers who ignore them can see their home languishing on the market for weeks or months.
In short, you have to get your home ready to sell.
Here's how to do it.
1. It's time.
We all do it. It's easier to let the winter coats pile up at the bottom of the closet when they fall off their hangers. It's easier to stack boxes in the corner than it is to haul them all up to the attic or down to the basement. It's easier to leave papers stacked up on the dining room table, and kids' toys scattered around the house, than it is to put them away.
The time has come, though. "De-cluttering" isn't just something you do after you're inspired by a YouTube or TikTok video; it's essential when you're getting your home ready to sell. And making sure the coats are hung up or the boxes are stacked neatly isn't enough.
Surveys of homebuyers continually show that the most important attribute they look for in a home is its location. There's nothing you can do about that, short of loading your house onto a flatbed and moving it.
Second on their must-have list, though, is space. Most buyers are looking for a spacious home; clutter will ensure that their first impression will be that your house is cramped and crowded.
Force yourself to do a clean sweep of the house, room by room. Pack up everything you don't need while you're selling the house, then put it in storage or donate it. Don't just stuff it into drawers or closets, either. Many potential buyers will also be looking to see how much storage space is in the home.
Speaking of closets, here's a bonus tip. Remove half of the clothes and boxes in each closet and put them into storage, then organize what's left so it's neat and clean. Buyers want lots of closet space; when the closets are half-empty, they look bigger than they really are.
Yes, de-cluttering is a lot of work. Here's extra motivation, though: it's packing that you won't have to do when you're ready to move out.
2. Prepare Yourself: It Won't Be Your Home Anymore
This next task accomplishes two goals. One is psychological, the other is strategic.
Let's deal with the psychology first. It can be traumatic to move out of a house where you've lived for years. There were parties and holiday dinners, birthdays, anniversaries, and other milestones in the lives of your family. Making a clean break from a happy home is difficult.
As you deal with those emotions, though, the last things you need to see are constant reminders like family portraits, vacation photos and souvenirs, and other very personal or idiosyncratic items scattered around the home. Packing them away while you de-clutter can make the process of selling your home much easier.
Now, let's talk strategy. The people thinking of buying your house want to visualize what it would look like as their home, not someone else's. It will be harder for them to imagine their favorite artwork on the walls, or their kids' photos on the mantle, if yours are still there. For that matter, if you have unusual pieces of furniture, hide or store them; if you've turned the living room space into a game room, change it back before putting the house on the market.
Making your house a "blank canvas" lets prospective buyers picture your house as their house – and moves them one step closer to making an offer.
3. Paint – And Put Your Inner Decorator on Hold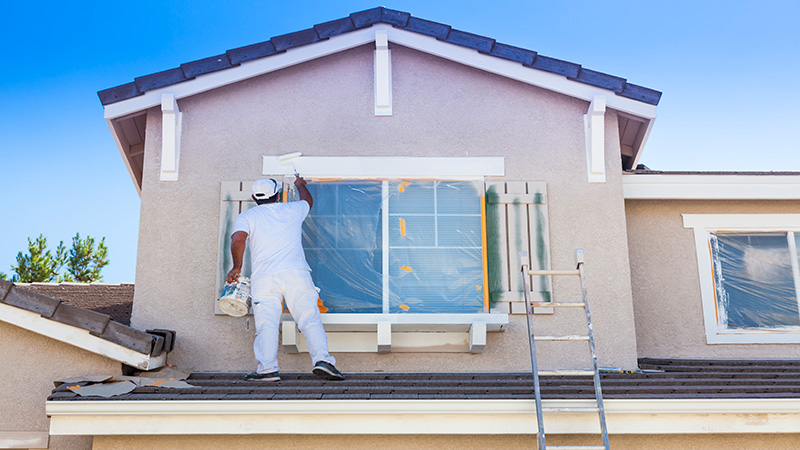 One of the best ways to make a home look new again is to patch the walls and then paint the interior. (If you have accent walls or catchy "wall quotes," you'll definitely need to re-paint. Otherwise, half your potential buyers will immediately think "Well, we're going to have to pay to repaint this place.")
Don't be deterred by what you might have to pay the painters. The cost is usually returned to the homeowner through a higher selling price.
Be careful, though. Even if your interior design abilities are impeccable, you're not designing the home for yourself, or for anyone else. You're simply trying to make the house more saleable. And that means using a light, neutral color. It makes the rooms look bigger and brighter, while making it easier for visitors to imagine what the home would look like with their own décor choices.
Here's a related subject. If the carpet in high-traffic areas is in such bad shape that it needs to be replaced before selling the house, don't go overboard. The buyers may want to do something completely different with the floors, and they may not want the pricey hardwood floors you'd pay big bucks to install.
Instead, use medium-priced carpet, and be sure to choose a neutral, solid color. If the existing floors aren't too bad, a deep cleaning for the carpets and a refinishing for wood floors will be more than enough.
4. How Handy Are You?
If you're the type who loves to putter around the house – and you have plenty of time to get your home ready to sell – your skills are about to be put to the test. Otherwise, hiring a qualified handyman would be a smart investment, because it's time to make small repairs.
Very few people are able to live in a home for any period of time without leaving their mark. Usually, they leave a lot of marks – on the walls, floors, and everywhere else. Once you've made an investment in painting the house, it simply makes sense to clean up all of the other messes you might have made, and ignored.
Hopefully you've already patched the walls before painting, but you'll still need to fix any damaged baseboards and cracked tiles. Make sure doors, cabinets and drawers close properly, and repair or replace damaged or outdated hardware. Check the windows to make sure they're in good shape, and repair ripped screens. Recaulk bathtubs, showers and sinks if they need it. Leaky faucets should be fixed, and all lights and smoke detectors should be working properly.
Those small issues may not have mattered enough to bother fixing while you were living in the house. They definitely matter now.
5. Take a Walk Outside
"Curb appeal" isn't just a tired real estate cliché. Even before potential home buyers step inside your house and the seven-second "first impression clock" starts ticking, they'll have already started evaluating your property by what they see on their way to the front door.
Don't let the home's exterior turn them off. Keep the lawn mowed, and seed or replace bare patches. If it's winter, make sure all driveways and walkways are shoveled and de-iced. (A slip-and-fall accident will probably derail any possible sale.) Patch any areas of the walks and driveway that need work, and trim the bushes and trees. If weather permits, plant flowers; if not, lay down mulch. Make sure there are no vines or spider webs on railings or windows. And clear the property of all of the lawn furniture and toys that invariably end up scattered around.
In most cases, you won't need to paint or re-side your home, but touch up or repair any areas that need it. A better use of your money is to paint the front door and the garage doors.
The outside needs more work than that? Hiring a landscaper to get it back into attractive shape will be worth the expense.
6. Clean – And Not Just Once
Now that you've gotten your home into shape, it would be a shame to let dust, dirt, grime or odors derail a profitable sale.
Most houses that have been "lived in" will need a professional deep cleaning, inside and out, before they're ready to sell. You may actually need to hire two crews, one for inside and one for outside. One person can do the work, and you can even do it yourself, but either alternative will take more time.
Indoors
Dust and vacuum (paying particular attention to pet hair): that includes under sofa and chair cushions, baseboards, ledges and light fixtures, under furniture and beds, and above cabinets.
Clean the kitchen thoroughly: that includes carefully cleaning the sink, oven, cooktops, countertops and the inside of the fridge, dishwasher and microwave.
In the bathroom: clean the toilet (including the base), scrub the grout, clean the mirrors and counters (including extras like toothbrush holders), wash or change the shower curtain.
Wipe down ceiling fans, doors and door frames, window tracks and windowsills, thermostats and vent covers.
Wash all interior windows and blinds. Wash curtains and drapes if necessary, remove them if they're an eyesore.
De-scale faucets and showerheads, and clean faucet aerators.
Spot clean carpets if they're in very good shape, otherwise call in a carpet cleaning company for a deep clean.
Deodorize anything that needs it; odors can turn off homebuyers faster than almost anything else. Toilets, drains, even trash cans should be checked carefully.
Outdoors
Wash all windows.
Clean siding and all walkways with a power washer.
Trim bushes and trees, if you haven't already.
Ongoing Maintenance
If you're going to live in the home while it's on the market, do a daily sweep to ensure the deep cleaning wasn't a waste of time and money. Mop, vacuum and dust, paying particular attention to the kitchen and bath. Some people go as far as eating out, or using paper plates and plastic silverware, so there's no chance the sink, dishwasher and counters will be a mess when visitors tour the home.
7. To Stage or Not to Stage?
Your realtor will undoubtedly mention the possibility of "staging" your home a day or two before it goes on the market, and you should carefully consider the possibility.
A staging company will bring in furniture, wall hangings and accessories, and redecorate the house to make it as appealing as possible to potential buyers. Yes, it may turn things upside down if you're still living there. Yes, it can be expensive (some realtors will pay that expense for higher-end homes). But staging will usually bring back much more than you spend for it, in the form of a higher selling price and a quicker sale.
8. Final Touches
If you're not having your home staged, you may want to add a few last touches before pulling the trigger on your listing. Subtly-fragrant plants or flowers can add a pleasant look and scent to the home. Putting them in the entryway can provide a welcoming appearance. Installing an essential oil diffuser (dispersing non-offensive aromas) can keep the house smelling fresh.
Last of all, make a list of all the things you'd enjoy doing while potential buyers are touring your house and you have to leave for an hour or two at a time. It will minimize the temptation to hang around the neighborhood, timing how long they've stayed in the house and what that might mean. This one may not help the home sell any faster or for a higher price, but it's invaluable for preserving your peace of mind.
Too Much Work?
A lot of work goes into getting your home ready to sell. At times, the process can be overwhelming.
There is an alternative, although it's primarily designed for people facing serious financial or time constraints that force them to sell their house quickly. It's selling the home to an investor for fast cash.
There are three types of individuals or companies who are willing to purchase homes as-is, and pay cash within days or weeks.
iBuyers: Companies like Opendoor and Zillow Offers are looking for homes in good condition in certain cities or towns. They close within weeks and don't charge commissions, but do charge service fees just as high (or even higher). Their cash offers will be lower than market value.
Home Flippers: Individuals who spend their time watching cable TV home flipping shows, or big companies like HomeVestors (operating as "We Buy Ugly Houses"), buy fixer-uppers that they can renovate or flip. There are no commissions or fees, but cash payments – usually much lower than those from iBuyers – are nearly immediate.
"New-Age" Home Buyers: These companies like SellYourHome.com are the only ones that will buy houses in any location and in any condition. There are no commissions or fees, they can close lightning-fast, and they may come the closest to making a full market offer.
You'll get less for your house when selling for cash than you would by selling traditionally on the open market. On the bright side, though, you don't have to worry about painting, cleaning or deodorizing your trash cans. You just take the payout and you're off to greener pastures.