Few people try selling their own homes. Even fewer sell their own home successfully.
The reason is obvious: it takes a great deal of expertise to survive in a competitive business like real estate. It takes even more expertise to succeed.
In a red-hot market, some intelligent people may be able to figure things out – at least, enough of them – to accept bids and find a buyer for their house. Otherwise, it can be a struggle at best.
That's why the best way to sell a house on an open market is with an experienced real estate agent.
And even then, things might not work out.
You might choose a realtor because a friend or relative recommended them, or because you're impressed with their track record, or because they've made some convincing promises.
But after a while, you could find that your house hasn't sold as quickly as you expected. It might not be attracting the types of offers you expected. It might not even be attracting any prospects at all.
What now? It's definitely time for a re-evaluation – and it might be time to change your real estate agent.
Here's a road map you can follow.
Step One: Why Isn't Your House Selling?
It's quite possible your home is just sitting on the market for reasons that have nothing to do with your realtor.
Before deciding it's time to change your agent, take a step back and figure out if there's some other issue to blame.
Days on Market
One good benchmark for determining whether you're actually having a problem that's out-of-the-ordinary is the average amount of time it takes to sell a house in your area, a statistic known in the real estate industry as "days on market."
For example, if your house has been on the market for 30 days but the average "days on market" in your area is 40 days, there not be an issue at all. On the other hand, if your house has been languishing for 45 or 60 days when the average home sells in 20 days, it could very well be time to shake things up.
Days on market is not a perfect measurement because, among other drawbacks, it doesn't include listings that were withdrawn or have expired. Even so, it's worth checking.
How do you find statistics for your neighborhood? They're computed by the industry's Multiple Listing Service (MLS), so your real estate agent should be able to tell you. If you're embarrassed to ask because you're thinking of changing agents, you can find them on sites like Zillow.
When your house isn't selling as fast as it should, something needs to be done.
What's the Market Like?
Is the market for home in your area hot or cold? In other words, is it a sellers' market or a buyer's market? Are homes just sitting for a while when they're available, or are there bidding wars breaking out when a desirable house goes on the market?
Local newspapers or websites often run stories on the subject, but anyone in the industry will be able to tell you. Realtors, banks or mortgage companies, even moving services know whether a lot of homes are being sold or if the market is frigid. You shouldn't expect your house to sell in a hurry if the market is a cold one.
Numbers like "days on market" can help in your evaluation, but common sense helps too. When you're selling your home, you automatically pay close attention to every other nearby house that's on the market. How quickly do those houses "turn over?" Do they attract a lot of potential buyers? How well-attended are their open houses?
Now compare what you've observed with what's going on with your own home. Are the same numbers of people checking out your listing and stopping by your open houses, or is your property languishing while others are getting lots of foot traffic?
The information you gather should be a big clue as to whether something needs to be done.
Take a Look Around
You've obviously shopped for houses before. (You own one now, don't you?) And you know what makes a house look good to potential buyers.
Be honest. Is your home's appearance as attractive and enticing as it should be? Is there a neighborhood issue, like an eyesore of a house next door or a pack of threatening dogs prowling the yard across the street? Even worse, are there major structural deficiencies or big issues that you haven't addressed – but may be turning possible buyers off?
If your house doesn't measure up to others on the market in terms of sales appeal, something needs to be done. (And your realtor should have already told you that.)
Re-Evaluate Your Realtor
If it's not the market, and it's not the neighborhood, and it's not the condition of your house –there's a good chance it's your real estate agent.
Is your realtor rude? If they don't treat you with respect, they may not treat potential buyers properly, either.
Does your realtor communicate well with you? If so, they may not be very good at communicating the benefits of your home to the people viewing it.
Are your home and your open houses being advertised? Do your digital listings look as good as the other listings on major websites? If not, your agent may be slacking off or unable to take advantage of the many house shoppers who do their initial browsing online.
Has your realtor been able to work well with their counterparts in the area, to bring traffic through your home? If not, they may not be as connected in your neighborhood or town as they should be.
Do you have trouble getting straight answers from your agent? That can be the worst sign of all.
In any of these cases – or if there's simply no legitimate reason why you can't sell your house when others are being sold around you – it's probably time to think about making a change.
Step Two: Talk to Your Real Estate Agent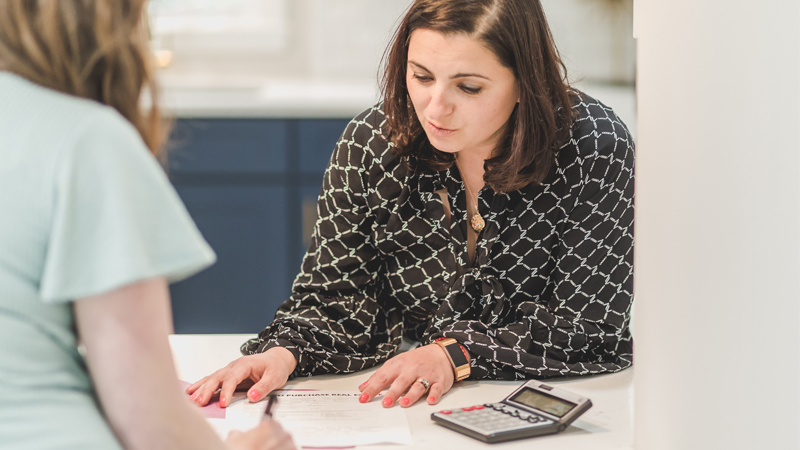 Ideally, you've been in regular communication with your agent and know their explanations (or their excuses) about why your home hasn't sold.
If not, that's already a sign that the relationship isn't working out. And even you speak regularly, it makes sense to touch base one more time to calmly present the information you've discovered and see if there's any reason to give the realtor another chance.
Still dissatisfied? It sounds like you're ready to change your real estate agent.
Warning: it might not be easy or painless.
Step Three: Check Your Contract
In most cases, you have to sign an agreement with a real estate agent before they will list your home on the market. And that contract might be an obstacle to switching to another realtor.
What matters most is whether the word "exclusive" appears on the document.
It could be contained in the phrase "exclusive right to sell," which means that the agent gets their commission no matter who sells the house. Even if you find a buyer on your own, the agent still gets their money. It might also be in the phrase "exclusive agency," which is almost the same; that option gives you the right to sell your house without paying the agent commission, but doesn't let you avoid paying the commission if you move to another agent.
The only contractual option that lets you deal with another agent without paying a commission to your original realtor is an "open listing" arrangement. Sadly, that's not the arrangement that most real estate brokers make with clients – but if that's the way your contract is written, there's certainly no harm in having two agents trying to sell your house.
The other part of an exclusive contract to check is its expiration date. A few agreements are only for a month or two, but most are for six months. A few last for a full year.
Some contracts do have "outs" built in via a cancellation clause, but you'll usually have to pay damages if you cancel.
If you have an exclusive arrangement with your current real estate agent which won't expire for a while, that seriously limits your options.
Step Four: Getting Out of an Exclusive Agent Contract
The best alternative you have is to have a cordial heart-to-heart talk with your realtor, explaining that you don't think that the two of you are a good fit for each other, and that you'd like to end the relationship. You don't have to tell them "…but we can still be friends" – but keeping things friendly is more likely to get them to agree to waive their rights.
Some won't object to a separation. A reputation of having happy and satisfied clients may be more important to them than continuing to represent a seller whose property they're already having difficulty selling. If the agent does object, and they work for a brokerage, you might try speaking with the manager or owner of the brokerage. They have no personal stake in the relationship, and a clean reputation may be even more important to them.
Those conversations aren't a necessity if you don't feel comfortable having them, or if the relationship is already prickly. Realtor.com suggests simply sending a notification in writing, telling the agent that you no longer wish to do business together. The written notice should include the specific date on which you're terminating the relationship.
Even if the agent amicably agrees to the separation, be sure to get it in writing. If they come back later and claim that they're owed a commission when another agent sells your home, having a written confirmation will be invaluable.
Before finding a different realtor, you have one decision to make: do you want to consult an attorney first? If the second agent sells your home, there's a possibility that you'll be facing a demand for commissions from the old agent, too.
Getting legal advice isn't free, of course, but it might put your mind more at ease to have a lawyer available to give you advice on the situation – and needless to say, nothing in this article should be considered legal advice. (Of course, you can always hire an attorney later, if you do receive a demand from the first realtor.)
You're almost there.
Step Five: Hire a New Real Estate Agent
Before deciding on a new realtor, be sure to tell them about your experience with the first agent. Other real estate agents in town are likely to already know that someone else was trying to sell your home, so it would be a good idea to let them know why you're changing. That will give them a level of confidence that you're not a "problem client." They will probably have some valuable advice, too, on why your house didn't sell on its first go-round.
One last suggestion: keep your first experience in mind, so that you don't make the same mistakes when choosing a new real estate agent.
Good luck!