When you're a kid and trying to learn how to ride a bike, it can seem overwhelming – until you figure it out. Then, it's no big deal.
When you're a teenager and trying to learn how to drive a car, it can seem overwhelming – until you figure it out. Then, it's no big deal.
When you start your first job, it can definitely seem overwhelming – until you figure it out. Then, it's no big deal.
Moral of the story: it's normal to feel overwhelmed when you tackle something new. But with a little practice and experience, bike riding, driving and doing your job become second nature.
Occasionally, though, that approach doesn't always help.
Few things can seem more overwhelming than buying a house – and unless a deal collapses through no fault of your own, you only get one shot. There's no time for practice and experience; you have to get everything right the first time.
So what's the best way to get through the intimidating, time-consuming and difficult process of buying a house? You use a comprehensive checklist, and go step-by-step.
We happen to have that checklist right here.
8 Steps to Buying a House
Yes, that's a lot of steps, but buying a new home is complicated.
Don't let the length of this list scare you. When you take the home buying process in bite-sized pieces, it's much easier to navigate. And you don't have to do all of this work yourself. You'll get plenty of help from professionals like your realtor and mortgage broker, and if necessary and applicable, your lawyer and accountant.
Six-and-a-half million people successfully buy houses in America every year. You can do this.
1. Get Your Finances In Order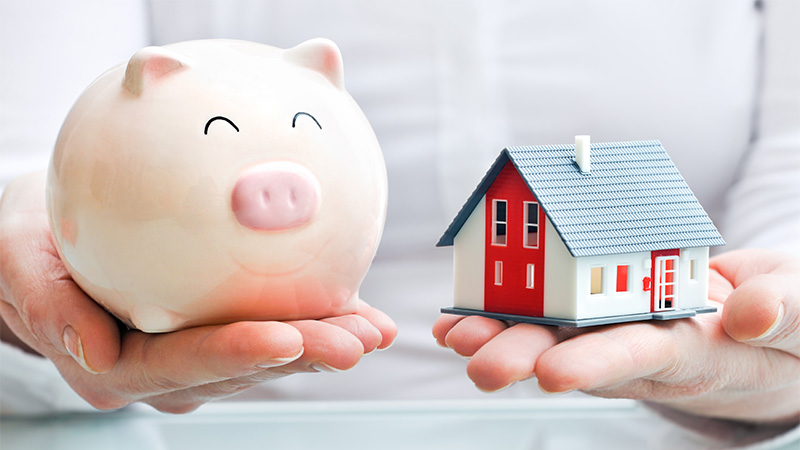 You may think that you're in good-enough financial shape to afford a house. But are you sure? Do you know how much house you can afford? And are you confident that your finances will survive a rigorous examination by a mortgage lender?
There's no sense going through the difficult home-buying process until you have all of those answers. Let's take the last question first, because it will also help you clarify whether your finances are solid enough for home ownership. (If you're paying cash for the house and have a ton of it in the bank, you can skip this step.)
Getting Ready to Qualify for a Mortgage
There are several tasks you should complete.
Check your credit score and credit reports: You'll normally need a credit score of at least 620 to qualify for a mortgage, and a score in the low 700s to get the best available interest rates.
If your credit score is low, take a look at the credit reports to see what's holding you back. Improving your on-time payment history, lowering your amount of debt – and if you don't have much of a record, establishing credit and using it regularly – will boost your credit score.
Oh, and if there are incorrect "dings" showing on a credit report, have them corrected before applying for a mortgage.
Determine your annual income and be able to document it: If you simply get a regular paycheck, calculating your annual gross income will be easy; just make sure you have W-2s or pay stubs to prove it to a lender.
If you're self-employed, get the total income number from your tax return and be ready to give a copy to the mortgage lender.
And be aware that many lenders want to see a stable work history (usually two years or more) before they'll approve a home loan.
Figure your debt-to-income ratio: This basically shows how much of your annual income you use to pay debts like mortgages, car loans and credit cards.
Divide your total monthly debt payments (use the minimum payment amount for credit cards) by your total gross monthly income, and you'll get a number like 30%. When your prospective mortgage payment is added in, that number must be less than 50%. Most lenders like to see it at 36% or below.
Determine how much cash you have available: Naturally, you'll need to have money for a down payment, but that doesn't just mean the 3%, 5%, 10% or 20% that your loan requires.
You'll need thousands of dollars for closing costs, and lenders also want to see that you have "extra" cash on hand for home repairs and maintenance. CDs or stocks don't count, unless you liquidate them; only liquid assets will be considered.
Once you've gathered all of that information, you're ready to start planning.
Figuring Out How Much House You Can Afford
Most lenders base their underwriting on what's known as the "28/36" rule. They make exceptions, but using it during your planning process can give you a good idea of what you'll be able to afford.
We'll start with the "28" part, which specifies that your total monthly housing expenses should be no more than 28% of your monthly gross income.
Take your monthly gross income, multiply it by 28, and divide the resulting number by 100. That tells you how much you can spend each month on housing expenses – and that's not just the mortgage, it's the total of your mortgage payment, taxes, homeowner's insurance and homeowners association dues, if any.
For example: if you make $10,000 a month, $10,000 x 28 = $280,000. Divide that by 100 and you get $2,800. So if you make $10,000 per month, you can afford total housing expenses of $2,800 per month.
We're not done yet, because we have to figure out the "36" part of the rule. It represents a maximum 36% debt-to-income ratio, which we've already discussed – but now you have an estimated mortgage payment to plug into your computations. If all of your debts (including the mortgage payment) put you over 36%, you'll probably need to either pay off some of your existing debt or lower your sights when shopping for a house. Otherwise, the mortgage company may deny you a loan.
That was a lot of work. But now you know whether you can afford a home, or if you have even more work to do before you're ready.
And if you're ready now, you're in much better shape for the rest of the steps to buying a house.
2. Get a Mortgage Pre-Approval
Most realtors and home sellers won't even deal with you if you can't show that you're a serious buyer who can afford a house. A mortgage pre-approval is the proof you need. (Don't confuse a pre-approval with a pre-qualification. The latter is just a lender's informal opinion that doesn't carry much weight.)
That means before you shop for a house, you have to shop for a lender. You can get recommendations from friends and family, or do some research online, to get an idea of reputable mortgage lenders and current interest rates. You can also visit the banks you already do business with and speak to their loan officers.
Whatever process you choose, you should interview several potential lenders. Ask about their loan programs (for example, conventional, FDA, VA, fixed rate, adjustable rate) and requirements, and ask for loan estimates. The estimates show projected payments, interest rates and closing costs, making it easy to compare them. When you choose a lender (factor in customer service as well as the raw numbers), it's time to apply for a mortgage pre-approval.
It will usually take a few days. You have to fill out an application, and the lender will then verify your credit, employment, income and assets. You'll probably have to submit the documentation we've already discussed, too.
When you're pre-approved, the lender will tell you the size of the mortgage they'd be willing to issue, and the type and terms of the loan.
Important: A pre-approval is not a firm commitment on either side. The lender isn't guaranteeing to write the mortgage; they'll do more in-depth research and computations after you agree to buy a specific home. And you're not required to use the lender for your mortgage; you're free to continue shopping for a different mortgage, either before or after you sign a purchase agreement.
That was a lot more work. But now the fun part begins.
3. Figure Out Exactly What You're Looking For
In most communities, there are usually dozens or hundreds of homes for sale. You can start to narrow your choices down by price. But touring a house can take several hours. It's a much smarter use of time and energy to decide on the "must-have" and "blue sky" features that you're looking for in your new home, to let you narrow the field further.
Some of the criteria you might use:
Acceptable neighborhoods
Amount of land/size of yards
Style and size of the house (listings use square feet as the universal measurement)
Age of the house, and age of major systems (e.g. HVAC) and appliances (e.g. refrigerator)
Number of bedrooms/bathrooms
Home office, family room or playroom
Patio, deck, swimming pool
When it's time to actually look at houses, though, be somewhat flexible. You never know when you'll see a home that's "perfect," even if it doesn't meet all of your criteria.
4. Choose a Realtor
Sure, you can look for a house on your own. But since the seller pays your realtor's commission, there's no reason to go shopping for a home without an agent.
It's great if family or friends recommend a realtor they were delighted with, but even so, interview several before choosing one. Ask them about their experience, the price ranges they usually work with, their knowledge of the area where you want to buy – and questions people often neglect to ask – like how many other clients they're working with and what hours they'll be available. Both of those questions will give you an idea of how easy they'll be to work with.
Base your choice partly on those answers, but just as importantly, on how comfortable you think you'd be working with them. The relationship won't be a long-term one, but it will be important.
5. Go Shopping!
Pro tip: Bring a notebook and pen with you. After you've toured 3-4 houses in a day, their features will all seem to blend together. Taking immediate notes on the pros and cons of each will let you compare and contrast them accurately, once you're done for the day.
More tips on productive tours:
When visiting a home, try to imagine yourself (and your family) living there. Ask about commute times and nearby schools and shopping, if you don't already know that information.
Don't hold back on questions. Whether they're about the neighborhood, the cracked foundation you noticed on your way in, or the water spots you saw on a ceiling, the seller's agent is there to provide answers. If they can't answer immediately, your agent can make a note to follow up after the visit.
Even if it's toward the end of the day, don't rush through a house. Give each one the time that it (and you) deserves.
On the other hand, feel free to cut the tour short if you see a serious deal-breaker.
There's nothing wrong with asking to re-visit a house if you're close to making an offer, but don't waste everyone's time if you're just "stuck" and can't make a decision.
6. Make an Offer
Here's where your realtor will be invaluable, and not just because they'll fill out the official offer form.
You may have found a home that you're in love with, and you might even be willing to pay the full asking price. Here's the problem, though: it's unlikely that you know enough about the neighborhood, the real estate market and the negotiating process to be sure that the asking price is realistic. You might very well be able to get the house with a lower offer.
The primary key to the offer decision is how much similar houses have sold for in the last few months. Those are called comparable sales, and your realtor can easily do the research to provide you with these "comps." Your agent can also tell you whether the market is hot and you should move quickly with a full-market offer, or if you can offer less because there are very few buyers out there. And they may have "inside" information on how eager the homeowner is to sell.
Your realtor will advise you on what a realistic time frame would be for closing, and what contingencies should be included in your offer. Home inspection (the house has to undergo an independent inspection) and mortgage (the offer is void if you can't get a loan) contingencies are standard. You may also want to consider adding a home sale contingency, which cancels the offer if you can't sell your current home in order to come up with the down payment for the new one.
Once you've made the offer, there will often be a few rounds of negotiation. Your realtor will guide you through them, and wave the red flag when they think it's time to agree. Of course, the final decision is always yours. Always remember, however, they have much more experience in real estate negotiations than you do.
7. Once Your Offer Is Accepted
Thankfully, once both sides have reached an agreement, most of the difficult work is done. You'll still have a number of tasks to check off your list, though.
Pay a deposit, usually called earnest money. It's usually 1-3% of the sales price, depending on local custom, and the money goes into escrow. It will be applied to the down payment at closing; if the sale falls through for reasons other than agreed-upon contingencies, the seller usually keeps the earnest money.
Contact your lender to tell them you've agreed to buy a house, and to ask them to start the loan underwriting process. That process can take several weeks, so be sure to stay in touch with them. The house will have to be appraised, but the lender takes care of that detail. If the appraisal comes in at a value that's too low, the lender will contact you to work on a solution.
Arrange for a home inspection by a third-party, licensed inspector. Your realtor will suggest reputable companies they've worked with in the past. A pest inspection should also be done. Make sure the lender gets a copy of the inspection report.
In most cases, you'll have to have one more round of negotiations with the seller, asking them to repair any issues or defects the inspection uncovered. In many cases, you'll agree on a reduction in the selling price (called a credit) for repairs the seller is unable or unwilling to make. In very rare cases, usually when there are serious issues like mold or asbestos, the two sides can't agree and the sale is cancelled.
Stay in touch with your realtor, to make sure that all contingencies are removed (and the seller's agent is notified) once the conditions have been satisfied.
Also notify your realtor when the lender tells you that you are "clear to close," meaning your loan has been approved. They'll then confirm the closing date with all parties.
Review and sign the Closing Disclosure your lender provides after loan approval, which spells out all of the details of the loan. Be sure you understand it and that there are no errors. You have three days to sign it.
Arrange to have the down payment and closing costs available. In most cases, it will be paid just before closing in the form of a wire transfer, so ensure that the bank has the correct wiring instructions (which will provided by your realtor).
Do a final walkthrough of the property with your realtor, to make sure that requested repairs have been made and nothing else has changed in the home since you last saw it.
8. Closing
If the closing is being held in person, your realtor will attend with you. If you're using an attorney to review documents, they should obviously be there as well. These days, many closings are done virtually, but you should still have your "team" with you.
You'll sign more documents than you can imagine (including the title transfer and the mortgage papers), the exchange of funds will be completed (or confirmed), and you'll get your new keys.
The process is definitely lengthy, and can be frustrating at times. But remember the two big positives: you have a beautiful new home – and you've gained valuable experience for the next time you're buying a house.
Steps to Buying a House FAQ
Q: Are the steps the same if I'm not using a real estate agent?
A: Basically, although you can obviously skip the "choose a realtor" step. But why would you do that? The 2-3% commission doesn't come out of your own pocket; the seller pays both agents' commissions. Essentially a realtor provides important guidance, while working for you "for free."
Q: Are the steps the same if I'm paying cash for a house?
A: Basically, although you can obviously skip the steps that refer to mortgage lenders. Just don't underestimate the amount of extra cash you'll need to pay closing costs, or the size of a reserve fund you need to establish for repairs.'
Q: How long does all of this take?
A: It varies for every home buyer. Industry estimates for the "average" time it takes to buy a house range from three months to six months, but that depends on whether you include the steps you have to take before actively touring homes. Once you're actually looking, expect the rest of the process to last at least a couple of months, and it usually takes between 30-45 days to close the deal after you're under contract to purchase a house.